SCHOOL SONG
FORTHCOMING EVENTS
December 2017
20/12/2017- Sr. Athletic Meet
21/12/2017- Youth Parliament
28/12/2017 & 29/12/2017- Jr. Class Presentation
NOTICE BOARD
Pronunciation Tips
Situation Vacant
CBSE Result (2016-17)
NEWS
MISSION
Education through interaction; self-development through education; exploring and fostering the force of 'self' within the individual to be a good citizen.
LATEST ACHIEVEMENTS
Winners of Debate Competition
Deakin University, Australia in collaboration with NDTV had organised a Debate ompetition on 1 st of September, 2017. Siaa Girotra of XIIC and Shruti Mishra of XIIA were declared he two best speakers. They have received a cash award of 7500 each.
Ishita Namjoshi won the Best Speaker prize from amongst the schools not qualifying for the Finals in the Ramjas Inter School Debate (Prelims).
20th Hepatitis Day Program
The students of Tagore International School, East of Kailash visited the Institute of Liver and Biliary Sciences [ILBS] on 4th December, 2017 to celebrate the 20th Hepatitis Day and to become a part of the Yellow Ribbon Campaign which started in 1998. The yellow ribbon marks the fight against all types of hepatitis. Number of competition was organized to increase awareness in people about hepatitis and to provide free liver screening to people. Arnav Khanna of IX B won the consolation prize in the mono act competition.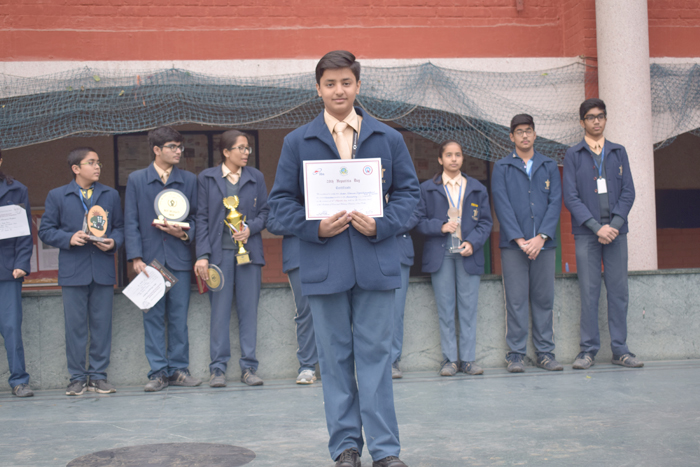 Vani Bajaj of Class 10 and a disciple of Su Shree Uma Sharma, represented India for a Kathak dance recital held at Nairobi and Kisumu , Kenya. She was selected by the Ministry of Cultural Affairs, Government of India.
Winners at The Foundation School
13 TIS EOK students of class 2 & 3 along with 3 students for instruments accompaniment participated for Jugalbandi 2017 held at Foundation School on 27 th October for Tarang Folk Song category where they bagged the second position and got silver medal. They performed a Bengali folk song (Phagunero Mohanaye) in the style of Bihu which has been written, composed and sung by Surajit of Bhumi band inspired by Naba Barua in 2004.
Winners at Silico Battles
Sanyog Gupta of Class XI and Angela Arora of Class X got third prize at Software Display competition ' Silico Battles -Dexterity ' for showcasing Arduino based software titled Sensitive Bins.
WINNERS AT SAE NIS AWIM REGIONAL OLYMPICS, 2017
SAE NIS AWIM REGIONAL OLYMPICS, 2017
A World In Motion(AWIM) Program that brings Science, Technology, Engineering and Math (STEM) education to life for students was held on October 24, 2017 at Mapple Emerald, Gurgaon. Our students won the following awards:
Skimmer – Best Vernacular Jettoy – Winner Aesthetics
a) Shreyansh Kaushik VA a) Rishi Bihani VIC

b) Daiyaan Mohammed VB b) Hardik Pamnani VIC

c) Riddhima Chawla VC c) Mohammed Ayaan VIC

d) Pritish Gupta VD d) Aarnav Mudgal VIA
Hrishikesh Parashar of IX-C is an avid tennis enthusiast. A budding tennis player, Hrishikesh has gathered tremendous exposure and experience by participating in various tennis tournaments within and outside the school. His potential was gauged within the school by Mr. Rohit in 2011, under whose able guidance, he started training professionally at Siri Fort Auditorium. In 2013, Hrishikesh moved to Yellow Balls Tennis Academy at Defence Colony under the guidance of Mr. Gourav Sharma. Since November 2015, he is being trained by Mr. Vishal Uppal (former Davis Cup player) at Delhi Law Tennis Academy, RK Puram. It is a matter of great pride for our school that Hrishikesh has chosen to follow his passion diligently. His career graph and ranking all over India is as follows:
Ranked 61 in Under-14 (Boys Tennis)

Ranked 181 in Under-16 (Boys Tennis)

Ranked 376 in Under-18 (Boys Tennis)
Recently, Hrishkesh ended up being the semi-finalist in Under-14 and Under-16 tournament held from 21 August, 2017 to 26 August, 2017. He was adjudged as the runner-up in Under-16 Doubles.
Tagoreans shine at ForceFest
In an Interschool IT event Force Fest held at Apeejay School, Sheikh Sarai our
students won the following awards
a. Khushpreet Singh and NamanVerma of class XI bagged the First position in Movie Making.
b. Arkoprovo and Raunaq Singh of class XI bagged the Third position for Image Editing.
c. Eashan Chahal of class XII got the Third position in the Gaming category.
Tagoreans won accolades at the LiFeMOSAIC
At the ANNUAL LITERARY FESTIVAL, LiFeMOSAIC, 2017, held on 22nd August, 2017 at Tagore International School Vasant Vihar, our students won the first prize in the 'SPOTLITE' category. The list of winners are:
1. Gunjan Roy of Class XIA
2. Naman Verma, Aanchal Tyagi of XIC
3. Ridhi Jaiswal, GC Saikiran. Surya Murali and Anshul Dogra of XIB
4. Aditya Prakash of XIIA