An Educational Trip to Rail Museum by students of Nursery
A trip to Mukteshwar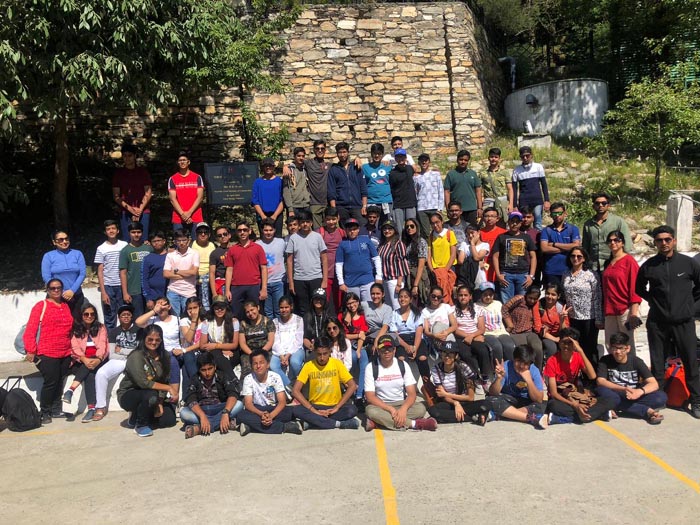 An educational trip to Lodhi Gardens by students of class Nursery
A Trip to NASA
An educational trip to National Aeronautics and Space Administration (NASA), United States of America was organised by the school during the summer vacations between 21 and 30 May 2019. A group of 10 students along with their teacher escort, Ms. Kavita Bhatia and Ms. Vaishali Wadhawan formed the team.
The tour aimed at attending a three day camp at the National Aeronautics and Space Administration (NASA). Children were curious to explore the National Aeronautics and Space Administration (NASA) and learn various facts about the gigantic universe.
Activities conducted at the Astronaut Training Experience (ATX) centre trained students necessary skills that an astronaut should have. They had a lifetime experience of visiting the Kennedy Space Centre Visitors Complex where they saw real rockets in the rocket garden and real space shuttles which had travelled to the moon and the red planet Mars for the first time. The students were also briefed about the team work and close coordination between the ground-based and space -based personnel to ensure the success of a mission undertaken.
A tour around the city of New York to see the Empire State Building, the Statue of Liberty, the Twin Towers, the Central Park and the Time Square was enthralling. A visit to the Rockefeller Centre, Brooklyn Bridge and other famous landmarks of New York kept the team mesmerised. An experience of having a 360 degree aerial view of the New York City from the 102nd floor of One World Observatory was an experience of its kind. The visit to the Cocoa Beach and Walmart were replete with loads of fun.
The visiting team also had a wonderful experience of the spectacular fireworks behind the Cinderella Castle, the enchantment of being at the Wizardly World of Harry Potter. A fun filled and an adventurous day spent at Disney Land Magic Kingdom was indeed magical. Here the children enjoyed various Disney shows and programs and many exciting adventure rides. The Maid of Mist cruise experience at the Niagara Fall was a breath taking experience. A visit to the Universal Studio also kept the students enthralled.
The trip to USA was indeed a memorable and learning experience that would be cherished throughout.
Wild Woods Mashobra
The Students of classes XI and XII attended the ROCKSPORT RESIDENTIAL Programme at the WILD WOODS, MASHOBRA from 25 May to 29 May 2019. Students experienced the vast forests, trekked through the undulating terrain, learnt survival skills, cycled through the hills and were mesmerized by the beauty and calmness of the camp site. The day began with Yoga and morning exercises. After a healthy meal they enjoyed the camp games and activites like Rapelling, Zip Line and many more. The day ended with Reflection at the Bonfire and Journal Writing. They learnt to work as a team and the camp culminated with Music Dance and Prize Distribution.
BACK