Budding Cricketer of TIS
Shaurya pandit of class 4-D won 6 trophies in these summer vacations.
On 2nd June 2018, he received MAN OF THE MATCH at Global International School for his performance of 19 runs n 2 wickets.
On 8 June 2018, he won MAN OF THE MATCH at Kalka Public School for his performance 25 runs n 3wickets.
On 20 june2018, He was adjuned MAN OF THE MATCH in TRI SERIES at Kalka Public School where he scored 50runs n took 4 wickets.
On 22nd june 2018, he received bowler of the day award at Eden Sports Complex in vasant kunj where he got a hat-trick. Three wickets in three balls... His team at RPCA was the runner ups at apl tournament.
On 27 June 2018, Under his captaincy Creative Stars Academy won 'Friends cup', at Eden Sports Complex, Vasant Kunj and in this match he won FIGHTER OF THE DAY Trophy.
Due to his superb performance in the "CHALLANGER CUP" he was adjuned "EMERGING PLAYER OF THE TOURNAMENT" on 1st July 2018 by Mr Rohtash Bhidhuri and Mr Anil Goel, Former councillors of Tughlakabad and Khanpur .
He is an upcoming cricket player and we hope he will make TIS more and more proud with his achievements.
Overall Trophy at Apeejay School, Noida
In an Inter School Hindi Debate Competition held at Apeejay School-Noida, our students of class XC Ishita Namjoshi and Devishi Shah bagged the first and the second positions respectively. They also received the Overall Best School Trophy. Congratulations Ishita and Devishi!!!
Winners-Poster Making Competition
In a Poster Making Competition held at Zakir Hussain Museum, Mariyam of class XII secured third position in sr. Group, Razi Rehman of class VIII secured second position in jr. Group, Zoya of class IX and Abdullah Miraj of class VIII received consolation prize.
Rolling Trophy from Gyan Bharti School, Saket
Students won many awards in Anveshan Science and Technology fest, held at Gyan Bharti School, Saket. In Movie making Aairah Usman and Jiya Gandhi of Class VI Won the First Position. In Digital Imaging Samarth Rungta and Shikhar Mohan bagged the second position. Second positions were also bagged by Baneet Pukhrambam & Aarush Agarwal of Class IX for Fun With Science Competition and Srijan Arora and Nishant Sharma of Class XI for Science Quiz. The school also won the overall trophy.

Merit Award winner at

Rock and Pop examination
Trinity college London conducted Rock and Pop examination in Delhi. Smarth Rungta of class VIII is awarded level 1 award with merit in playing guitar.
Winner at the Poetry Competition
Abhishek Pandey of Class VIII secured first position in the poetry writing competition conducted by HT Pace.
Pramit Das of class X won Times SPARK Scholarship, a national initiative of The Times of India. He was awarded a scholarship amount of Rs 1 Lakh towards his educational expense
Winners of Debate Competition
Winner at Ramjas Debate
20th Hepatitis Day Program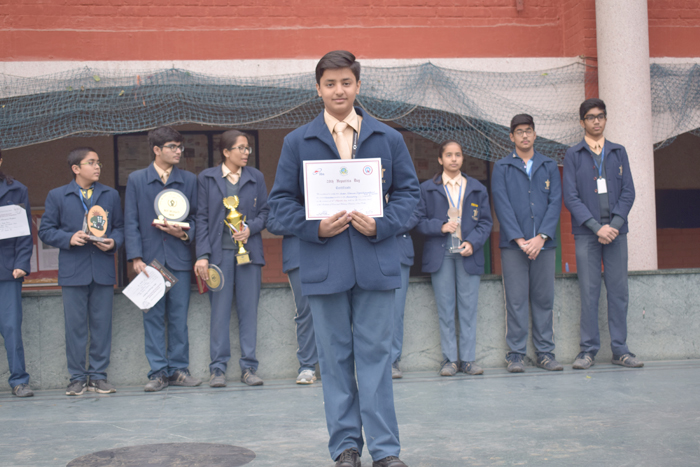 Tagoreans shine at various MUN's
Tagoreans shine at ForceFest
Tagoreans won accolades at the LiFeMOSAIC
WINNERS AT DR A. K SAHA YOUNG SCIENTISTS EXPERIMENTAL PROJECT
First position in Poesy Draturgy at Airforce, Bal Bharti
Second position in clay modelling at Bloom Public School
First position in Mural Painting at Amrita Vidhyalayam
Winners at Airforce Golden Jubilee, Subroto Park
Special Mention at MUN, K.R.Mangalam School
High Commendation award at MUN, Tagore International School-Vasant Vihar
Taekwondo National Champions
School bagged the Overall Winners trophy in TAFS, Airforce School-Subroto Park
Best Interjector(Hindi Debate) Lotus Valley School
Zonal winner at National Cyber Olympiad