OUTSTANDING ACHIEVEMENT OF OUR STUDENTS IN A QUIZ COMPETITION
We are proud to announce that two of our students- Spandan Panda (VII-C) and Pranav Kumar (VII-B) represented the school in the Bhu/ Earth Quest held at India Habitat Center (IHC) on 23 February as part of Habitat Photosphere. The Habitat Photosphere is a month long festival that uses visual arts to raise awareness towards cultural and environmental sustainability. Our students participated in the Quiz on earth, environment and sustainability for children. It was organized by Bookaroo and conducted by QuizCraft Global with support from The Energy Research Institute (TERI).
They were declared champions winning over other schools such as The Sriram Millennium School. Shikshantar, G D Goenka, etc.
SOF SCHOLARSHIP OF EXCELLENCE IN ENGLISH- ISHITA NAMJOSHI, THE PROUD WINNER!
Our meritorious student of Class X, Ishita Namjoshi has won a scholarship for her outstanding performance in English in SOF. As part of the scholarship, she has received a cheque of Rs 5,000/- and a Certificate.
The SOF SEE is run in association with The British Council. Under the SEE, 120 students excelling in English are annually selected to receive this prestigious scholarship.
This year over 4500 students vied for the coveted scholarship that has been given to the most brilliant 120 students across the country.
OUR HEARTY CONGRATULATIONS TO OUR ACHIEVER!
Regional Level Winners in F1 in Schools
F1 in Schools by Time of Sports Regional level 1 competition was held at Suncity School, Gurgoan. 60 Teams participated in the competition. Top 15 teams were selected for the national level competition that will be held in the month of April 2019. Our school team 'Laser Blitz' comprising of Rishi Bihani, Soumil Garg, Garvit Lodha, Rakshan Takyar, Susmit Narayan, Siddhant- Class VII have qualified for Nationals.
In Regional Level 2 held at Genesis Global school, Noida in which 104 teams participated our school team 'Genesis Racing' comprising of Samarth Saini, Abhinav Gupta, Augustya, Harshvardhan, Pranav Bansal- Class VIII and Parv Khurana- Class VI won the "Best Sportsmanship Award" and have qualified for the Nationals.
English and French Olympiad Winners
Shagun Gupta of Class IX B won a special Mention in TAFS MUN
Winner at Balvantray Mehta Vidya Bhawan debate competition
In a debate Competition on UN Anti Corruption Day held at Balvantray Mehta Vidya Bhawan held on 10 December 2018, Shagun Gupta of Class IX won the 3rd Position as well as recognition as an Outstanding Speaker.
Vidhi Nautiyal - The culinary artist
Vidhi Nautiyal of Class VIII-A registered herself at a prestigious Cookery competition held at Heritage Girls School, Udaipur. After her recipe got selected for the Final, she went to Udaipur to compete for the Trophy. The culinary artist in her bagged the 2nd Position in the National Level Competition. Apart from the all expense paid trip, she received a certificate, medal and a cookery book by celebrated Chef Vicky Ratnani.
Winners at Vigyanthram- IIT Mumbai
The prestigious Vigyanthram Competition was hosted by IIT, Mumbai recently. The 16 young Technocrats of Tagore did the school proud by not just winning prizes in different categories but also winning hearts. They carved a niche for themselves as invincible. Their bots raised the bar for the other teams too. Mrigank Gupta was declared the Runners Up in the Innovation segment. In Quadrone the team comprising of Pratham Dahara, Rahul Thareja, Rohit Saini, Siddhant Anand, Parth Anand and Lakshay Jayant came first and was awarded a cheque of Rs 11,000/-. The School also lifted the Best Series Award for overall performance for Prelims and Finals.
Winners of Abacus Mathematics Genius Competition
In Cambridge School, Srinivaspuri- Aashvi Gupta of class III won the second position in story telling competition and third position in futuristic architecture was won by Lakshika Khurana, Aarush Agarwal and Tooba Rahman of class IX
In Comp D'Affairs held at KR Mangalam World School Aairh Usman of class VI &
Ayman Raza of class VIII won
Second
position in Scratch Animation and Ayan Trivedi of Class V won first position in Cartoon Mania
Pari Chauhan and Gopal Krishna of class VII won the first position in a quiz conducted by Sunder Nursery, Delhi's Heritage Park
Isha Kaushik of class XI won first position in Lyrical Canvas in Dr. Prem Kirpal Memorial Inter School Art and Poetry Competitions held at DPS RK Puram
Madiha Riyaz of class XI won the High Commendation at CRUX MUN 2018 held at Apeejay School, Sheikh Sarai
Ayesha Khan, Aratrika Guha and Kaashvi Bagdwal of class X won the first position in Creapo (Create a Poem) event held at Bal Bharti School
Winner at Rahul Joshi Memorial Inter School Declamation Contest
Swapnil Srivastava of Class IX participated in the Rahul Joshi Memorial Inter School Declamation Contest and has won the Second Best Speaker Award. He was awarded with a certificate, Trophy and a Gift voucher of `750/-. Rolling trophy was also awarded to the school.
Swapnil Srivastava of class IX won second position in an Elocution Competition conducted by FICCI
Winner at Freedom of Expression Contest
Mehar Rawal of class 2 won 1st position in level 1 English language program, Freedom of Expression contest conducted by iexpress.
NIE Student of the Year
Angela Arora of class XI won the Student of the year award for the session 2017-18. This award is given by Time NIE to students who display a combination of talent, academic excellence, leadership ability and contributions made to the society. She received a trophy, certificate and a gift voucher.
First Position in Debate
Inayah of class V was awarded first prize by the Ministry of Environment at the Delhi Secretariat for a Debate Competition held during International Ozone Day Celebration.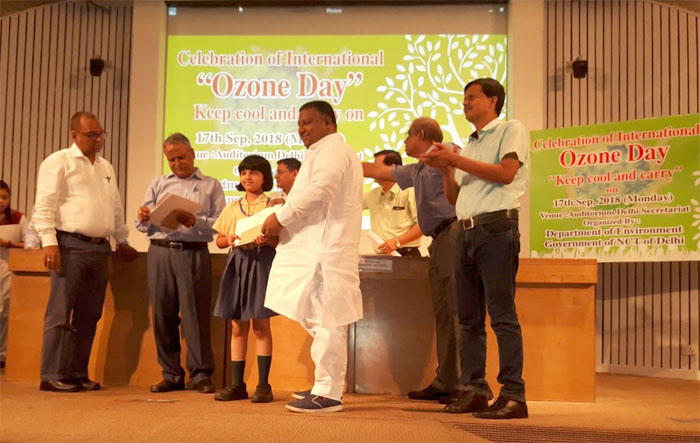 Winner at District Level
Arkajyoti Majumdar of class VIII won the second position in the District Level Instrumental Music Competition.
Shubrit Khanna of class VII B participated in Card Making Competition held at Sanskriti School and won the third position
Aruni Kumar Jha and Kritesh Madan of class IX received certificate from International Astronomical Search Collaboration in recognition of valuable contribution to observations of near earth objects and main belt asteroid discoveries by participating in the analysis of images from Pann Starrs in collaboration with SPACE
Pramit Kumar Das and Samarjit Singh of class X participated in display a model on Waste Management in the zonal level science exhibition conducted by Directorate of Education. Their model got selected for Centre Level.
Winners at Apeejay Noida
In Kala Sangam an Art, Music and Dance fest held at Apeejay School Noida, our students won the following awards
· Third position in Sufi Singing competition. The participants are Sahil Bhargawa- Vi A, Ayush Kumar & Prateek Thakur- VI B, Vishnuswamy- VII A, Jyotiranjan & Ananya Neb- VII C, Arkajyoti Majumdar – VIII C
·Amitanshu Panigrahi of class X won third position in Canvas Painting Competition
Winners at DR A. K SAHA YOUNG SCIENTISTS EXPERIMENTAL PROJECT
Springdales School, Dhaula Kuan organized the 'Dr A. K Saha Young Scientists Experimental Project- Inter School Competition' on Friday, August 10, 2018. The theme of the experimental project this year was 'Game Changers and Change Makers-Celebrating and Exploring Science, Innovation and Technology'. The event was judged by eminent scientists from CSIR. The team of Agrima Singh and Parth Arora, both from class XII C represented our school with their project titled 'Hydrating Manure-No More Thirsty Plants' which was highly appreciated by the judges. There was a Science Quiz competition also for classes X and XI in which
Ishita Namjoshi of class X C
and Shripat Nepak of class X A,
Srijan Arora
and
Nishant Sharma
,
both from
class XI C participated. On the basis of the result of both the competitions, our school lifted the RUNNER'S UP TROPHY.
Zonal Competition winners
In the Zonal Music Competition held at CGSSS- East of Kailash and RPVV Tyagraj Nagar, Arkajyoti Majumdar of class VIII won first position in Instrumental and in Vocal music Arkajyoti Majumdar of class VIII and Chetna Arora of class XI won first position in the senior category.
In Zonal Nukkad Natak Held at CGSSS School, East of Kailash, out of 25 schools participated, our school team won the first position.
In the Zonal Table Tennis held at Bluebells International School our Sub Junior boys team won runners up and junior boys team won the third position.
Throwball Junior Girls won the Zonal Championship 2018-19.
Sub Junior Boys team and Junior girls team won third position in Zonal Basketball Tournament.
Junior Boys got second position in Zonal Football Tournament held at Airforce Bal bharti School , Lodhi Road.
Third Position in Zonal Badminton for Sub Jr. Girls held at Mata Gujri School.
First Position in Zonal Group Folk Dance Competition with Live Singing.
Winners at St. Colomba's School
St Columba's School, Ashok Place, New Delhi, organized 'Sym Sci 2018' – Interschool Science Symposium Competition for class X on Tuesday, 31st August,2018.The competition had two events , power point presentation on the topic 'Heredity and Evolution' and model making on the theme ' Waste management and Water body conservation' . Our school participated in both the events and sent a team of six students from class X.The team of Pramit Kumar Das and Samarjit Singh ,of class X C won the first prize in model making competition. They designed a self sustain drone SK9 for removing plastic waste from sea water.
Mrigank Gupta and Lakshay Jayant of class XI won the Third Position in a

Surprise Event at Eniac

Virus,which was organized by Bluebells School International
Kaishvi Choudhary-Global Goodwill Ambassador
Kaishvi Choudhary, a class 5 student has been recognized as the Global Goodwill Ambassador in the Making by a volunteer network of World's Humanitarian's founder Richard DiPillia & COO Lisa Jones.
Earlier, she was recognized by a London based organization "My Body is my Body" founder Chrissy Sykes for the advocacy and awareness Kaishvi is doing against Child Abuse.
She advocates this issue across various platforms including Peer group awareness sessions.
She is easily approached by other children in need of help and then she takes legal advise from her mother Sumitra Choudhary who is an advocate practicing at the Supreme Court & Crusader against Sexual Harassment at Workplace.
Budding Cricketer of TIS
Shaurya pandit of class 4-D won 6 trophies in these summer vacations.
On 2nd June 2018, he received MAN OF THE MATCH at Global International School for his performance of 19 runs n 2 wickets.
On 8 June 2018, he won MAN OF THE MATCH at Kalka Public School for his performance 25 runs n 3wickets.
On 20 june2018, He was adjuned MAN OF THE MATCH in TRI SERIES at Kalka Public School where he scored 50runs n took 4 wickets.
On 22nd june 2018, he received bowler of the day award at Eden Sports Complex in vasant kunj where he got a hat-trick. Three wickets in three balls... His team at RPCA was the runner ups at apl tournament.
On 27 June 2018, Under his captaincy Creative Stars Academy won 'Friends cup', at Eden Sports Complex, Vasant Kunj and in this match he won FIGHTER OF THE DAY Trophy.
Due to his superb performance in the "CHALLANGER CUP" he was adjuned "EMERGING PLAYER OF THE TOURNAMENT" on 1st July 2018 by Mr Rohtash Bhidhuri and Mr Anil Goel, Former councillors of Tughlakabad and Khanpur .
He is an upcoming cricket player and we hope he will make TIS more and more proud with his achievements.
Overall Trophy at Apeejay School, Noida
In an Inter School Hindi Debate Competition held at Apeejay School-Noida, our students of class XC Ishita Namjoshi and Devishi Shah bagged the first and the second positions respectively. They also received the Overall Best School Trophy. Congratulations Ishita and Devishi!!!
Winners-Poster Making Competition
In a Poster Making Competition held at Zakir Hussain Museum, Mariyam of class XII secured third position in sr. Group, Razi Rehman of class VIII secured second position in jr. Group, Zoya of class IX and Abdullah Miraj of class VIII received consolation prize.
Rolling Trophy from Gyan Bharti School, Saket
Students won many awards in Anveshan Science and Technology fest, held at Gyan Bharti School, Saket. In Movie making Aairah Usman and Jiya Gandhi of Class VI Won the First Position. In Digital Imaging Samarth Rungta and Shikhar Mohan bagged the second position. Second positions were also bagged by Baneet Pukhrambam & Aarush Agarwal of Class IX for Fun With Science Competition and Srijan Arora and Nishant Sharma of Class XI for Science Quiz. The school also won the overall trophy.

Merit Award winner at

Rock and Pop examination
Trinity college London conducted Rock and Pop examination in Delhi. Smarth Rungta of class VIII is awarded level 1 award with merit in playing guitar.
Winner at the Poetry Competition
Abhishek Pandey of Class VIII secured first position in the poetry writing competition conducted by HT Pace.
Pramit Das of class X won Times SPARK Scholarship, a national initiative of The Times of India. He was awarded a scholarship amount of Rs 1 Lakh towards his educational expense
Winners of Debate Competition
Winner at Ramjas Debate
20th Hepatitis Day Program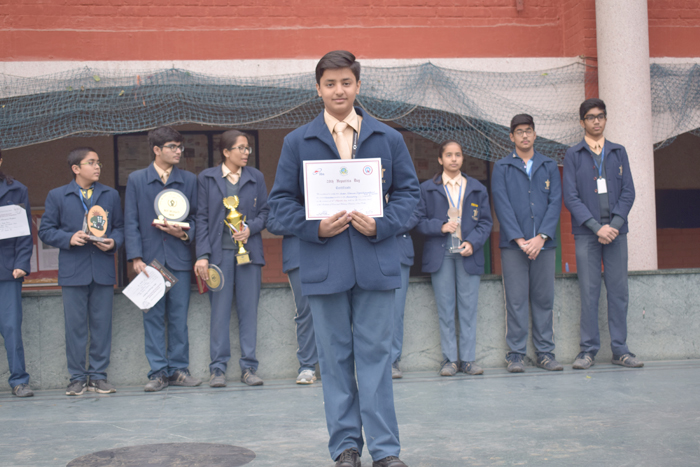 Tagoreans shine at various MUN's
Tagoreans shine at ForceFest
Tagoreans won accolades at the LiFeMOSAIC
WINNERS AT DR A. K SAHA YOUNG SCIENTISTS EXPERIMENTAL PROJECT
First position in Poesy Draturgy at Airforce, Bal Bharti
Second position in clay modelling at Bloom Public School
First position in Mural Painting at Amrita Vidhyalayam
Winners at Airforce Golden Jubilee, Subroto Park
Special Mention at MUN, K.R.Mangalam School
High Commendation award at MUN, Tagore International School-Vasant Vihar
Taekwondo National Champions
School bagged the Overall Winners trophy in TAFS, Airforce School-Subroto Park
Best Interjector(Hindi Debate) Lotus Valley School
Zonal winner at National Cyber Olympiad