LITMOSPHERE – (Literary Club)
Litmosphere is the literary club of the school.
The aim of the club is to inculcate a fondness for language among students and to enhance their literary skills.
The wide spectrum of literary activities undertaken by the Literary Club includes book discussions, interaction with authors, review writing, literary quizzes, writing for various competitions and for the school magazine etc.
Members of the club from senior classes also hold sessions for literati of middle school which include activities such as spin a yarn, poem recitation, weaving a story and many more. The club members are also given summer reading lists and recommendations for books to read over the holidays.
In every school assembly, a literati ( a club member) announces a few words to enhance the vocabulary of all the students.
The literati from senior classes form the editorial board, their main job being editing of articles written by junior students.
The club welcomes anyone and everyone with a passion for writing, reading, and creativity
Teacher Incharge
1. Ms. Rita Ronita Sen
2. Ms. Neetu Khanna
Office Bearers
| | | |
| --- | --- | --- |
| Post | Name | Class |
| President | Prarthana | XI A |
| Vice President | S.Vitthal Rao | XI A |
Cultural Club
Selected students of senior classes are being trained in advance courses of dance and music in a way that they can compete with other schools in various competitions or represent our school in reputed cultural festivals and workshops. These students also encourage the junior students of our school to hold festivals in our school such as AAROHAN and SPIC MACAY performances, thus expanding their horizons. We were recently applauded and invited by the Costa Rican Embassy for our fusion performance of Kathak, Bharatnatyam and Kuchipudi performed on Tagore's poem 'Where the mind is without fear'.
Teacher  In-charge(s)
1. Ms. Jayita Ghosh

2. Ms. Payal Mishra
3. Mr. Shalom David
Office Bearers
| | | |
| --- | --- | --- |
| Post | Name | Class |
| President | Radhika Mishra | XI B |
| Vice President | H.Shweta | XI A |
| Head Indian Music | Navya Swarnakar | IX C |
| Head Western Music | Mman Sobti | XI D |
| Head Classical Indian Dance | Peehu Bhardwaj | XI B |
DEBSOC- Debate Club
The Debate Society, also known as the DebSoc, is one of  the  active clubs of the school.   The DebSoc members are selected every year  through a series of highly competitive Group Discussions, Speeches, and Debates. The members participate  in  more than 9-10 Model United Nations Conferences every year and  have been regular recipients of awards at these conferences. The DebSoc of TISVV has been organising Tagore International School Model United Nations (TISMUN) for 2 consecutive years now. It has been a great success wherein we have had more than 300 students from several schools, in India and abroad participating every year. TISMUN is considered to be one of the top notch MUNs of the Delhi MUN circuit. 
Teacher In-charge(s)
1. Ms. Anuradha Arora
2. Ms. Manpreet Kaur

Office Bearers
| | | |
| --- | --- | --- |
| Post | Name | Class |
| President | Sanjeet Aggarwal | XII A |
| Vice President | Syed Sameed Anwar | XI D |
Art Society
The members of the Tagore Art Society 'Shrishti' are proactively involved in various projects within and outside the school and have many laurels in Art Competitions.  There are 22 members in the society ranging from Classes IX to XII. The motto of Tagore Art Society is to spread awareness about art practices and establish the connection of Art and Society through project works. Art society also organizes interesting art competitions for our school students to encourage art appreciation.
The Pallet (Wall Art Magazine), is an interactive project, where in students display different aspects of Classical and Contemporary art practices. Every Year art society students goes for Art Trips to different parts of country as part of experiential learning. Students of Shrishti are always involved in creating backdrops for major school events and contributed installations, paintings and sculptures for the school's value-based initiatives such as Organ Donation, Acid Attack Survivors etc.
Recently Quilling club is included under Art Society. Students of this club creates amazing quilling products ranging from greeting card, key chains, jewelry etc. These items are displayed on the days of different events in school and sold for charity.
Teacher In-charge(s)
1.Ms. Meena Nagpal
2.Mr. Anjon Bose

Office Bearers
| | | |
| --- | --- | --- |
|       Post | Name | Class |
|   President |                     Priyali Kumar                               | XII A |
|   Vice President |   Drishya Taneja          | XII B |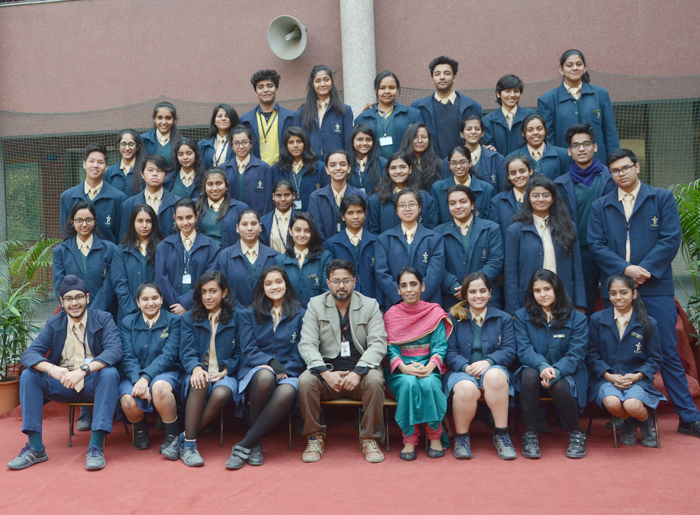 Students of Quilling club displayed  handmade cards on 31st August 2019 at the parents teachers meet
Students of class XI are exposed to relation of Art and Community, thus implementing a learning module that will enable the students to connect with their direct environment and explore art as a medium of Communication and interaction. 
Quiz Club - QUZZADOR
The Quiz Club is a very active club and has members from classes VI-XII. In the last academic session, we had regular sessions with the famous Quiz Master, Mr. Arindam Bhattacharya, where students learnt tips for a successful quiz, different quizzing methods, how to identify their areas of expertise and how to strengthen their knowledge in those areas. Our Quiz Club members regularly attend various Inter-School Quiz competitions and win prizes. Inter-class and intra-class quizzes such as the Sports Quiz to commemorate the National Sports Day and the pop quiz on French Day Celebration are organized by the Quiz Club. 
Teacher In-charge(s)
 1. Ms. Niela Hariharan
 2. Ms. Deepali Jain

Office Bearers
| | | |
| --- | --- | --- |
| Post | Name | Class |
| President | Suyash Chitre                    | XI D |
| Vice President | Arsh Misra                | XI D |
Quiz master Arindam Bhattacharya's Quiz workshop for students of classes IX and X
Pyrotech (Computer) Club
The Pyrotech Club consists of Wiz kids who are talented in myriad areas such as digital imaging, web designing, movie making, robotics, programming etc. They help other students gain competence on new software. They not only participate in various inter school computer competitions but also organise computer events within the school. The Annual  Inter-school Computer Fest 'Ordin@trix' is conceived, planned and organized entirely by the Pyrotech team.
Teacher In-charge(s)
1. Ms. Bhawna Garg
Office Bearers 
   Post

       Name

   Class

CREATIVE HEAD


Namya Chabra

Anandiya Sheel Diwan

Shaivi Shewaramani

Ronit Das

Head (Programming)

Sparsh Kumar Tanwar

XI C

Head (Robotics)

Sharan Suri

Shradha Hariharan

XI C 

X C 


Head –Movie Making

Harshdeep Singh

Sanya Anand

XI C


X C
Eco Club
The Eco Cub which is called 'Green Teens' consists of about 40 members from the classes VI-IX. The aim of the club is to work towards protecting the environment and come up with the new ideas to improve the school campus. They have undertaken various projects such as paper recycling, rain  water harvesting, waste segregation, recycling of tetra packs etc.
Teacher In-charge(s)
1. Ms. Vandana S. Gupta

2. Ms. Anupriya Malik
Office Bearers
| | | |
| --- | --- | --- |
|       Post | Name | Class |
|   President |                Aditi Goyal                                 | XI A |
|   Vice President | Mannat Shardne                 | XI A |
Survey among school staff regarding segregation of waste
Planting of herbs and taking care of plants
Collection and segregation of paper for recycling
A fancy poster made from recycled paper
Sale of smokeless diyas on the occasion of Diwali on 19 October 2019
Photography Club
The Photography Club was officially set up in school in the session 2014 – 2015. It provides a unique platform for enthusiasts to showcase their photographic art as an expression of  sensitivity, fun and joy. To offer situations to practice photography , the enthusiasts of the Club regularly take photo walks . Frequent workshops are conducted by Canon ,to guide and encourage students about the skills of the art.
Teacher In-charge
1. Ms. Meenakshi Tickoo
2. Ms. Gurvinder Kaur 
Office Bearers
| | | |
| --- | --- | --- |
|       Post | Name | Class |
|   President |                     Ansh Matta                               | XI C |
|   Vice President |   Manya Kamath          | X A |
Display of exquisite work done by students at Parents Teacher Meet on 7th September 2019
Session on "Photography Gears" conducted by Mr. Imran Kokiloo for the students of Photography club on 20 July 2019
Tagorean Awareness Society
Tagorean Awareness Society was founded in 2014 .It aims at promoting cleanliness in school and supports a school for the underprivileged. To inculcate the feeling of cleanliness among the students TAS has initiated the 'Cleanest Classroom  Award' for middle school & senior school. The winner is announced every month. They receive a trophy which they proudly display in their class for a month. The TAS members visit the Samparan School in Vasant Kunj where they conduct activities for the children. They also distribute storybooks and eatables.
Teacher In-charge
1. Ms. Maitreyee B

 Office Bearers
| | | |
| --- | --- | --- |
|       Post | Name | Class |
|   President |           Chandnee Tanwar                     | X C |
|   Vice President | Hardik Juneja          | X C |