Yatin Kohli and Soumya Karnani have qualified for the state level Science competition
The department of science and technology organised the centre level science competition in which around 20 schools per category participated  and our team comprising of Yatin Kohli of XI D and Soumya Karnani of XI A have  qualified for the state level competition under the theme "Health and Hygiene".
Vanshika Kathuria and Batul Nadeem were honoured for meritorious performance in Class X 
Madhuban Publication has been honouring students of Delhi schools for meritorious performance in  Class X  Hindi board examination. Vanshika Kathuria of XI C  scored  99 out of 100 and Batul Nadeem of XI D scored  98 out of 100 in  Hindi and have received a certificate of excellence.
V. Chaitanya and Muskaan Bhatt bagged the first prize in Harmony 2018
Project Drishti that was initiated in school by V. Chaitanya and Muskaan Bhatt of class XI, aims at providing quality education to the visually impaired students. Harmony is an annual event organized by the Global Education and Leadership Foundation which brings together students from across the country with the objective of searching for social, action-oriented leadership talent. Project Drishti was our entry for Harmony 2018. Our school bagged the firt prize among 10 other schools participating from all over the country.  V. Chaitanya and Muskaan were awarded a cheque of ₹10,000 each which they have donated for funding other school campaigns.
Sarohi Sharma secured the first position in 

inter district solo classical dance competition
Sarohi Sharma
of XI B represented the school in  inter district solo classical dance competition and secured the first position. She has qualified for the state level competition to be held in this month.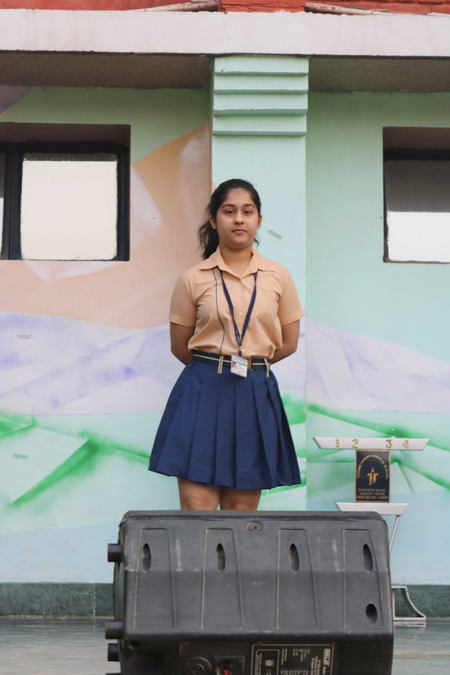 Avni Sharma & Jayita Diwan secured the first position in the Central Level Children Science Congress
On 22 October 2018, The department of science and technology organized the Central Level Children Science Congress. 18 teams from 9 zones of Delhi participated in the Central Level competition wherein our team comprising of Avni Sharma and Jayita Diwan of XI D after securing the first position in the zonal level participated in the senior level category of Ecosystem and Ecosystem Services, in which their project "Seed Treatment and Water Retention" secured the first position. They have qualified for the state level competition.
School bagged IILM Young Citizen Award for Innovation and Social Impact
On 24 October 2018, V. Chaitanya , a team leader of Project Drishti which is conceptualized around providing quality education to the visually impaired, showcased the elements of the project at the IILM Young Citizen Award for Innovation & Social Impact. The project won the first prize out of 60 others that were presented by different schools from all over the country. The prize distribution ceremony took place on 24th itself at the UN House in Lodhi Estate during UN Day celebrations where Mr. Yuri Afanasiev ,the UN Resident Coordinator and UNDP Resident Representative in India, handed over a trophy as well as a cheque of Rs. 1 lakh to V. Chaitanya.  The entire prize money has been donated by the project members back to school and will be put to use for developing more learning tools for the visually impaired and funding activities of the other We Care projects in school.
Overall Winner of Skimmer event & Jet Toy Car event at AWIM Regionals
Maruti Suzuki sponsored AWIM regionals  for the Delhi region was organised  at Maruti Suzuki Training Centre , Gurugram on 24 October 2018  .A total of 24 teams from top schools of Delhi participated in this event .
Our Jet Toy team comprising of Lal Nunkimi Hnamte , Samyata Kain , Sashreek Kumar of  VI C  and Abhilash Pradhan of  VI A were declared the overall winner of the Jet Toy competition and were also awarded 2 category awards in presentation and distance with weight round . 
Our Skimmer team comprising of Soham Panda of V A  , Tishya Chandok and Parantap Misra of  V B  and Raanya Soti of V C were  declared the overall winner of Skimmer competition and were also awarded 2 category awards in Presentation and Turning ability round . 
Both the teams will now  compete in the AWIM nationals at Chandigarh for national title in december .
The  Skimmer was guided by Mrs Neetu Swarnakar and the Jet Toy team by Mrs Geeta Gosain and Mrs Nidhi Sood .
Aditi R Rao and Kaizan Minotra secured second position in WWF quiz
The city level WWF quiz was held on 01 October 2018. More than 800 schools participated from all over Delhi, Rajasthan, Haryana  and Varanasi and took part in the written elimination round. The top five teams were called for on stage quiz round. Our team of  Aditi R Rao of VIII C and Kaizan Minotra of VI B secured second position in the final round.
Winners of Anveshan 2018 at ITIHAAS
Anveshan is an annual heritage based musical event organized by ITIHAAS.  The team of 22 students from middle school toiled tirelessly for days for the zonal as well as for the final round .Finally, on 09 August 2018 at LTG Auditorium, Mandi House our JUMBISH Choir displayed a rocking performance and won the first prize at the National level in Music category.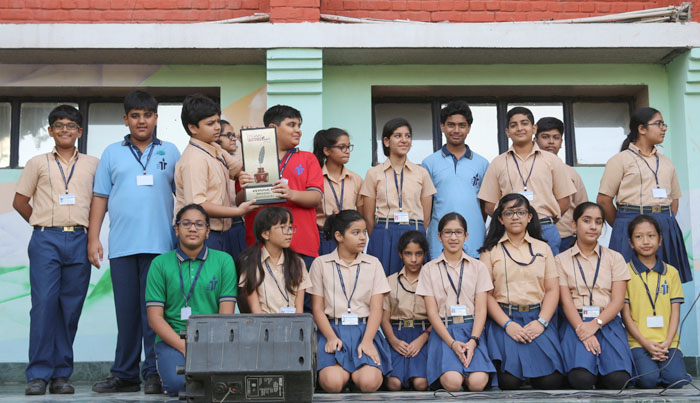 V. Chaitanya qualified for finals of Social Innovation Challenge for the Young Citizen Award
IILM University organized the Social Innovation Challenge for the Young Citizen Award for Social Impact. The preliminary round selected 60 teams out of which the presentation round at IILM university on 10 August 2018 saw the judges picking the top 15 teams based on innovation, feasibility, idea presentation,etc.  V. Chaitanya of class XI D, presented the idea behind Project Drishti, our campaign to provide quality education for the visually impaired, and was selected in the top 15. She will compete in the finals on 24 October 2018.
Tagoreans shine at Zonal level science events organised by The Directorate of Education
The Directorate of Education organized zonal level science events in the later half of August, and we are proud to announce that we have won prizes in each category.
In the Children's Science Congress held at Rajkiya Pratibha Vikas Vidyalaya, on 27 August 2018 around 25 schools from Delhi participated and our students Avni Sharma and Jayita Diwan of XI D bagged the first prize. The topic was SEED TREATMENT AND WATER RETENTION TECHNIQUES, a research based project in which the students presented their observations and it was followed by a question answer session.
On 21 August 2018 the zonal level science seminar was organised,wherein around 20 schools from Delhi participated and Pranav Mishra of X B bagged the first prize, after presenting his views on the topic INDUSTRIAL REVOLUTION 4.0, He also qualified for the centre level seminar on 06 September 2018.
Directorate of Education also organized zonal level poster making and slogan writing competition. Khushi Seth of class V A represented our school for poster making. Out of over 50 entries her poster on the topic "Trees our Friends" won the first prize. In the slogan writing event Kashish Sehgal of X A wrote her slogan on the topic "Water Crisis" and won the third prize. 
On 30 August 2018, the zonal level Science Exhibition was organised at SBV DELHI CANTT where around 30 schools from Delhi zone 20 participated and we secured the first position in two projects 
Assistive mobility device for visually impaired toddlers by V. Chaitanya of class XI D under the category transport and communication.
Oral hygiene by Yatin Kohli and Saumya of XI C under the topic health and hygiene. These students will be participating at the district level.
Tagoreans won the first prize in Shanghai International youth Science and Technology Expo 2018[SIYST)
Five students, accompanied by Ms. Gauri Sen and Ms. Shruti Chandhoke had yet another opportunity to participate in the Shanghai International Youth Science and Technology Expo (SIYST), the seventh of its kind held this year between 19-26 July 2018 at Shanghai, China.
We were indeed proud to be the only school representing India at this expo. Among the 254 participants from13 countries, and a total of 45 exhibits showcased, we take pride in announcing that our exhibit titled: Assistive applications for the visually impaired bagged the first prize. The team comprised of SparshTanwar ,Aditya Kabu , Ansh Matta, Aditya Sharma, and Anisha Arya who worked under the guidance of Ruby ma'am, Gauri ma'am
Not only this, our team also won the second prize in the bridge making competition, in which a bridge had to be constructed using Styrofoam and thread.
Even our teachers were no way behind. Gauri Sen Ma'am was awarded a prize for her presentation titled: Innovation in education using technology.
Jesnoor Kaur - "Max Singing Superstar-Delhi 2018"
Max Fashion Brand organized kids festival , where in the kids from all over –Delhi and NCR showcased their talent in front of an esteemed jury. Jesnoor Kaur  of  V A was selected for singing, out of 200 children in the age group '5-10 years'. She went on to win the show and became "Max Singing Superstar"- Delhi 2018.
Winners of various Olympiads
Our students have done exceedingly well in the zonal level SOF contests.
In the IEO, Prajwal Prakash of X A has won zonal gold medal and a cash prize of Rs. 5000 and Nidhir Bardhan of IV  A received zonal bronze medal and a cash prize of Rs. 1000.
Avani Dobhal of VI C, Jiya Chawla and Rupsha Rajib Ghosh of VII C, Pranshu Panda of IX C received certificates of zonal excellence in IEO.
Ritwik Shingari of VII  C and Priyal Lathar of X II C received certificates of zonal excellence in NCO.
Armaan Chatterjee of  IV C, Taran Saxena  of  VI C and Rupsha Rajib Ghosh  of VII C received certificates of zonal excellence in NSO.

Debshata's painting was exhibited in National Gallery of Modern Art Mumbai
Debshata Choudhary of  VIII C participated in National level competition organised by Annual Art Olympiad and his painting was selected and exhibited in National Gallery of Modern Art Mumbai.
Madhav Poddar, Rishit Singh and Stutee Panda won accolades in All India interschool Maths Talent Hunt
Thirty students, five each from classes VI to XI , participated in the 34th Manav Sthali All India interschool Maths Talent Hunt conducted by Manav Sthali School , Rajinder Nagar  in the month of January 2018.
Madhav Poddar of VII A,Rishit Singh of VII B and Stutee Panda of X B were awarded the Merit Certificate for their excellent performance.
Anisha Sharma of IV C excelled in piano exam
Anisha Sharma of IV C appeared for University of West London's London College of Music step 2 piano exam in Dec 2017. Her pieces were applauded by the LCM faculty and examiner for  good balance, accents, pitch and rhythm. Anisha secured 100% in theory exam and 87% in practical, thus securing a distinction in both her exams.
Siddharth Mehta won the consolation prize in a singing competition organised at Red Fort
International museum day was celebrated on 18 May  2018 at Red Fort. To mark the occasion solo devotional song competition was organised  and out of 160 participants  Siddharth Mehra of VII B won the consolation prize.
Winners of National World Scholars Cup competition
World Scholars Cup 2018 was held at Sun City School, Gurugram on 28 and 29 April. Over 500 students participated from35 top schools of Delhi NCR. Our senior team comprising of Shrey Chhabra , Sanjeet Aggarwal and V.Chaitanya of XI won the overall top team award. They also bagged the first position in scholars bowl which is a team quiz. They bagged third position in scholars challenge which is a written test on the given curriculum and also bagged third position in team debating. Chaitanya won a special award for excellent individual performance in scholars challenge.
Our junior team comprising of Arsh Misra of X C, Syed Sameed Anwar and Sidharth Bhattacharjee of X B also made us very proud. They bagged first position in essay writing and fourth position in scholars challenge. Arsh Mishra got a specialaward for his excellent overall performance. Both the teams have qualified for global rounds to be held at Barcelona, Melbourne and Kuala Lumpur.
Winners at Science and Innovation Fair 2018 held at Modern Public School, Shalimar Bagh
FGSI or Foundation for Global Scientific Initiatives organized the Science and Innovation Fair (SIF) 2018 on 23 April 2018, at Modern Public School Shalimar Bagh, where in around 40 schools from Delhi and NCR participated in the following categories: Life Sciences, Chemical Sciences, Physics, Computer Science, Mathematics and Environmental Science
Anindita Audhkhasi of XII D, Avni Sharma of XI D and Meghna Bhuyan of XI D participated in the health Sciences category, in which our project "Amaltas: The Capable Cassia" bagged the first position.
The second position was bagged by Shruti Barua, Vanshika Kathuria, Saloni Anand and Bhavya Kalia of XII D for the project on "Eco-friendly water treatment and water retention" under the category of agricultural sciences.
Ritwik Shingari and Priyal Lathar secured zonal rank 23 in NCO
The Science Olympiad foundation organized the National Cyber Olympiad for classes III to XI on 30 January 2018. Besides the class toppers two of our students, Ritwik Shingari of VI C and Priyal Lathar of XI C have done us proud by securing zonal rank 23 in their respective age groups. They have won Medal and  Certificate of Distinction and  Certificate of Zonal Excellence.

V. Chaitanya won Times NIE Student of the Year Award
Times NIE Student of the year Awardis an initiative to felicitate Times NIE student members, who have displayed a rare combination of talent, leadership abilities, performance skills and most importantly, academic excellence. It also recognises their significant contribution made to society. The selection format was in the form of a questionnaire, IX and X mark sheet of the student and certificates of extracurricular achievements earned in the past two years. From amongst the Times NIE members, two students had applied for the award.
We are proud to announce that TIMES NIE, has selected V. Chaitanya of class X A as the awardeefor the Times NIE Student of the year Award for the session 2017-2018. She received  a trophy, a certificated of excellence and also a tablet worth Rs. 4000.
Winner of
Pramerica Spirit of Community Awards
The Pramerica Spirit of Community Awards are given to students in recognition of their efforts to bring about a change in the society. It is a nationwide contest wherein teams or individuals send their entries to Pramerica to be evaluated and judged upon. This year, Mohammed Sandeed Farooq of class XII participated as an individual entry. Out of a record 4000 applications from across India, 16 candidates qualified for the final interview round in the individual category. After the interview with an eminent jury panel, Sandeed Farooq won the silver medallion for his community service initiatives to educate people about acid violence. Five students from Project Sehpaathi, Arsh Misra, Suyash Chitre and Saloni Anand of X C, Tenzin of X B and Pallavi Manchanda of XII A , participated as a team entry. They won a bronze medal among the top 10 team entries.
Tagoreans declared Winners of Times S.P.A.R.K
The first edition of Scholarship Program for Awareness, Reasoning and Knowledge (SPARK) started in the month of September 2017 where 300 exceptional boys and girls were selected from the length and breadth of the country. An article a day in TOI  was shared over three months for students across the country to analyze and at the end of 90 days they were tested on what they had read. Thereafter,students had to go through a rigorous process that tested their understanding and perspective about national and international issues. We are proud to announce that three  of our students, V. Chaitanya of X A, Sidharth Bhattacharjee of IX B and Arsh Misra of IX C are declared winners of this prestigious scholarship program.
    

                 Arsh Misra - IX C

            Sidharth Bhattacharjee-IX B

V. Chaitanya- X A
Skimmer team won Best Sportsmanship Award at AWIM National Olympics at Pune
SAE India organised the AWIM National Olympics in collaboration with Maruti Suzuki , Mahindra and Mahindra and Cummins India in Balewadi , Pune  from 20 to 22 January 2018 .A total of 75 teams from all across the country participated in this event and our skimmer  team comprising of Satvik Phalswal and Lal Nunkimi of  class V B and Shreyas Rajput and Abhilash Pradhan of class V C won the award for best sportsmanship. Our teacher Mrs Neetu Swarnakar also won the National Award for the Best teacher in the skimmer category. Our student volunteer Dikshant Pratap Singh also won the National Award for the Best Volunteer in the Skimmer category.