We at Tagore International School, believe in giving our students opportunities to maximize their potential.With this ideology, school launched its pilot Internship Program for Classes X - XII during the summer holidays in the year 2013. Students at this age( aged 15 – 17 years) are at a stage where they have some idea about the career they want to opt for, but at the same time are confused with the plethora of opportunities available. To give them a hands on experience in their field of interest and to engage them skillfully during the summer break, we organize internships for two weeks every year. This provides students with a rare opportunity to understand the nuances of professional life and to apply their knowledge in real world situations.
Session 2018-19
This year our students got the opportunity to intern in the organisations like STUDIO LOTUS,

CACHE INFOTECH

,

SATKARTAR FASHION (Garments manufacturing)

,

PEARL ACADEMY

,

HAVAS INDIA

,

24 FRAMES

,

WISHBOX STUDIO

,

WWF

,

BLK HOSPITAL

,

TAJ PALACE

,

WADHWA CHAMBERS

and

RIVETING EVENTS
Internship at Cache Infotech Pvt. Ltd.
| | |
| --- | --- |
| Samarth Bagga X-C | Smridh Mahajan X-C |
Internship at Satkartar Fashion
Internship at BLK Hospital
I want to thank you for giving me the opportunity to serve as an observer/intern in the cardiology department at your organization, B.L. Kapur Super Specialty Hospital. During this period of 15 days, I had gained valuable insight into the field of medicine and had learned a lot from the doctors, patients, and coordinators I had worked with.
I was fortunate that the doctors provided me with the opportunity to observe numerous cases and brief me about the nuances of this profession. In addition to that everybody at the hospital was very welcoming and helpful and offered me terrific career advice.
This internship has definitely increased my interest in pursuing a career in medicine and to be specific cardiology. Thank you, again, for making my internship a rewarding experience. I hope to keep in touch with you and the rest of the team.
Avni Sharma
| | | |
| --- | --- | --- |
| Anshika Popli X-A | Avni Sharma XI-D | Batul Nadeem XI-D |
Internship at Wadhwa Chambers
Prarthana of class X and Anshika Bhatnagar of class XI, completed a two-week internship course in the renowned Wadhwa Law Chambers, in Kalkaji. They had an extremely informative learning experience working with advocates, researching cases, and going to courts. They were first told to go through the Constitution of India briefly and familiarize themselves with reading and understanding the legal language and know important sections. They were then given three landmark cases that prove to bring about important changes in the Indian judiciary to research on and give their point of view. During their time in the office, the young minds also helped with the legal paper works and were consequently taken to court proceedings in the District as well as the Delhi High Court.
Prarthana X-A
Session 2017-18
This year about 25 of our students participated in this programme and benefitted immensely . They got the opportunity to intern in orgamisations like BBC Media, WWF, Max Hospitals, CNN News18, Wishbox Studio, Sweccha , Pierrot's Troupe, to name a few.
Internship at BBC Media
Internship at CNN News 18 Studio
Internship at Police Station
Internship at Sweccha NGO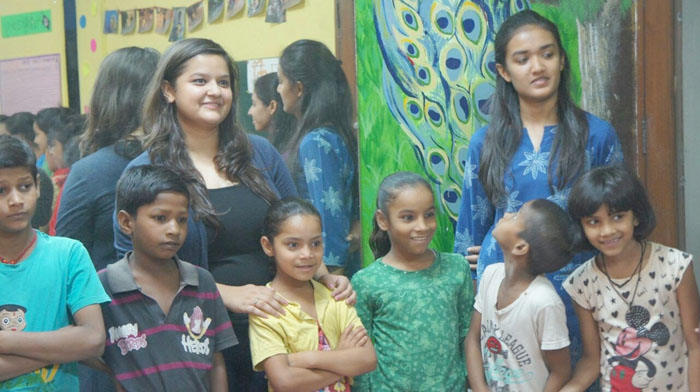 Session 2016-17
Internship at Hotel Taj Palace
I am grateful to have received the opportunity of doing an internship with Mr. Rajesh Wadhwa, Executive Chef - Taj Palace Hotel. I owe this internship to Tagore international School.
It was a great learning experience. I worked in the bakery department. We were a group of two interns working in the bakery department. We have learnt to bake fruit cakes, Bakhlava (an Arabic sweet dish), Shoe pastries, cupcakes, chocolates, etc. This internship program helped me analyze my interests and skills. We learnt to work under pressure and understood the working of a kitchen of a reputed Hotel like Taj Palace. The staff at Taj Palace was highly experienced and very welcoming, helpful and cooperative, which made the internship a joyful experience. Lastly, I would like to thank Madhulika ma'am for this enlightening opportunity.
Eva Arora
X-C
Internship at Lifestyle
I am Muskaan Ahuja from class 11 A and I was interning with Lifestyle in the Visual Merchandising department. The experience was amazing and I learnt a lot. We were told about how clothes and mannequins were displayed in order to make them visually appealing to the customer and also how a store is managed.
There were so many aspects of retailing we knew nothing about. This internship taught me a lot and it was a really enriching experience.
Muskaan Ahuja
Class XI -A
In the summer vacation of 2016 I had my internship at Lifestyle, Pacific Mall for marketing and advertisement. The internship began with a meeting with Mr. Jasdeep Kohli, who is the head of marketing at lifestyle, at his office in Gurugram. He then assigned Charu Ma'am to work with us who worked in visual marketing at Lifestyle, Pacific Mall. She explained the six basic concepts on which lifestyle was built and also about in-house brands. The following days we studied each of these concepts and how they were applied in the store. We had to observe and study each brand separately and find out how their marketing was different from one another. We also compared lifestyle to other stores in the mall as well as lifestyle at Ambience Vasant Kunj where we identified how their marketing strategies varied. Being there I also learnt about the daily checklist, router letters, merchandise density and styling docket. I also had the opportunity to dress mannequins, according to the styling docket, which were put on display at the store.
This internship has given me an incredible experience and has allowed me to learn and expand my skills. I am thankful for this opportunity and I would recommend this to all those interested in marketing and advertisement as it will give a good exposure to marketing in the Corporate world.
Vridhi Wadhawan
XI-A
Internship at Pearl Academy
I was a part of the Pearl Academy internship program, which was from 06 to 11 July 2016. During this period, we were introduced to different designing courses. On the first day of the program, we learned how to make a lamp using simple waste such as scrap chart papers . The next day, we had to design the interior of a room for a 6 yr old child using thermocol as walls. This was the best part as we were asked to remember our childhood memories and then design the room. The next two days, we had to make a product using ice-cream sticks and wire and a stop - motion video using yarn. On the last day, we went for an industrial visit. It was a good opportunity to learn
Easha Chandok
Internship at Pavan Duggal Associates
I would like to share my experience during my internship with Pavan Duggal Associates.
When I walked into the office of Pavan Duggal Associates, I knew that this place was different.Unlike most other offices I've been to, this place actually wanted to make a difference in the world of cyber security.
Mr Duggal is a very knowledgeable person who is always willing to share his knowledge and learn more at the same time. He treats persons of all ages with the same level of enthusiasm.
On my first day, he told me that I need not come to the office everyday, and could work from home. He asked me to research on the topic 'How technology will affect the youth of our country by the year 2020'. While researching on this topic, I learnt a lot about how technology plays a very important role in the life of people nowadays.
Over the next fourteen days, he gave me several topics related to technology and its effects such as 'Sexting and Sextortion', 'Online harassment', and the risks of using developing platforms without proper analysis from a security point of view. I would go to the office on alternate days for an hour each to submit my project and collect the topic for the next one.
Overall, it was a very enlightening and enjoyable experience for me, and I am thankful to my school for providing me with this opportunity.
Rahul Basu
Class X-A
Session 2015-16
For this summer vacation of 2015 I had my internship at the Taj Palace Hotel New Delhi for hotel management. My internship began with a briefing about Taj on the first day. The next day I was sent to my department, the front office where I met Cynthia ma'am who gave me a tour of the Taj Palace and explained in detail about each place as we passed. Then following days I went and explored the different departments of the front office. I went to the business centre, reservations, communications and customer care, bell desk and guest history. In all the departments I was basically getting briefed about their work. Being there I also went for room inspections where we had to make sure that everything that guest requested was there as well as the room was ready for the guest to check in. I also learned as to how to prepare a discrepancy report which was done on a daily bases. During my visit there I was also able to go to the food and beverages department for a few days and explore this department as well.
This internship was fun and very informative. I would recommend this internship to all those who are interested in the field of hospitality.
VRIDHI WADHAWAN
X-A
Internship at S. Chand Publishing House with the Editorial Department
It was a short but splendid two weeks
from 1st June to 12th June, 2015.
I first had a quick interview with the Head of the Editorial Department, after which I was given a place to work, in a cubicle with two other persons working at the house as proof readers. While they arranged a laptop for me, I acquainted myself with my two fellow cubicle seniors and in the two weeks that followed, they familiarised me with their work.
Interning at a publishing house for educational books, my first task was to find syllabuses for major subjects for central and state universities.
The second day, my laptop was replaced with a desktop and I finished the task in a couple of days. I was then introduced to one of the developmental editors who ran me through the basic process that a manuscript undergoes in this particular division.
My next task involved assisting him to find pictures for the cover of a book in its last stages, about go for printing. Through this, I got the gist of cover designing. Later on, I searched for professors online who could be asked to review certain books for the publishing house and lastly, I began creating a database for such reviewers state-wise, which I was told would be of great help to the house in the future.
I also discovered that the person in-charge, Ms. Shalini shared my love for books and we had a hearty discussion when she was able to take out time. It came as no surprise when we exchanged books on the last day. I had a fulfilling last day, literally, with a pizza party in the department.
The best part was that I was kept busy with work. Apart from that, I was unable to extend the duration of my stay despite requests, which is of course unfortunate, but the time I did have, I believe was spent
well.
Strong positive feedback confirmed my choice for pursuing this field, at least for now. However, whether I would wish to join an educational publishing house remains unclear for I would only be capable of making that choice when I get the opportunity to intern at other publishing houses, such as those for recreational books or newspapers.

I am thankful for the invaluable opportunity.


SAKSHI AGARWAL
Internship at CNN IBN (Network 18)
With the national media becoming popular, making journalists and news reporters increasingly influential, an urge to pursue journalism as a career had developed within me. Journalism, especially the investigative kind, has always seemed like an interesting career prospect. However, what is seemingly a world full of bustle and excitement involves dealing with a load of stress, competition and late nights. Interning at CNN IBN, one of the leading news channels in the country, allowed me a glimpse into the world of news presentation, aided me in understanding it better and is treasured as an invaluable experience. From spending time in the News Room, observing the editorial department swishing their fingers over computer keyboards, to travelling the length and breadth of the city, followed by an OB Van full of equipments, covering stories- the internship was an exciting one! In the course of the internship, I interviewed the CBSE class XII topper, attended a press conference held by the Head of the Indian Meteorological Department (IMD) to gather latest updates regarding the heat wave situation declared then, discussed the environmental connotations of the heat with the Head of the Environmental Department of the IMD and Ms. Baha Dutt, environmentalist and author, helped with the preparation of the script for a new CNN IBN series called 'Stop Call Drops' and even shot a bit of the introduction to the package, featured in the live morning show on one of the days, and interviewed the Joint Commissioner of Police, Traffic, Gurgaon, questioning her about the different innovative initiatives undertaken by the Gurgaon Police to spread awareness about the importance of following traffic norms. All in all, the two weeks I spent interning at CNN IBN were extremely fruitful and there could not have been a better way to spend my Summer break!
Sohini Chakrabarti
Internship at Pearl Academy
In addition to sharpening our designing skills,we had the opportunity of sharing our ideas and projects with our fellow interns from other schools.Each day we got exposure to a variety of courses and were enlightened about courses we did not know much about,such as the global luxury brand management course.These five days have made us more confident about our choice of profession and has helped us to be more focused towards what we want to take up in the next few years.
Sehej Kaur - Class X
---------------------------------------------------------------------------------------------------------------------------------
During my summer vacations, I got the opportunity to take internship program at Pearl Academy, Noida from 1st June to 5th June. It was wonderful experience as I was exposed to various courses and designing techniques such as Light Painting Photography, Draping, Jewelry designing, Product designing. I also got an opportunity to visit an advertising company, Rep Indi, where I learnt how to design a logo, how shoots are done etc. Over all I enjoyed this internship, and hope to have another one next year.
Sukriti Grover - Class XI
Session 2014-15
In the summer break of the session 2014-15, we conducted Round Two of the Internship Program we had started for students of Classes X-XII last year. We doubled the amount of internships offered (over 100) and targeted more industries. Apart from the favorites of last year, such as Law and Fashion, our students worked with Graphic Designers, Public Relations teams, News Channels and many more.
We were pleasantly surprised to learn that some of our employers were so impressed with our students' work that they offered the students full-time jobs once they graduated! Others raved about our students' work ethic: Anshu Chhibber, Editor at CNN-IBN said of Aayushi Mehrish (Class 11), "Aayushi is just brilliant. She is courteous, punctual and does excellent work."
Two-thirds of our students rated the internships as "Amazing", saying they were able to clarify what they want to do in the future. We are even more certain that internships are extremely effective in helping students chart out their interests and goals. We urge parents to encourage their children to participate in this valuable endeavour in the coming years.
Jaya Rao and Sarthak Taneja (Class XI) interning under photographer RohitSuri
Aayushi Mehrish (Class XI), recording a segment at CNN-IBN
Safina Amin (Class XI) going into the Operation Theatre with Dr Arvind Kumar, Director, Institute of Robotic Surgery, Sir Ganga Ram Hospital
Session 2013-14
Our school launched its pilot Internship Program for classes X-XII during the summer holidays in the year 2013. It is vital that young people be exposed to the wider world, where they can have first hand experiences that will determine their career choices in the future. 60 students from classes X-XII interned with professionals of their choice, ranging from Supreme Court advocates, to Executive Chefs, to Fashion Designers. Over half of the employers were enthusiastic school parents who generously volunteered to mentor these young minds.
The internship program was a resounding success. 90% of students gave us glowing feedback: "The internship program could not have been better. There was perfection in all ways. I got to learn and understand the working scenario and technical aspects of a film studio," said Jatin Sawhney, Class X, interning under environmentalist filmmaker Mike Pandey.
The employers were deeply impressed with our students as well. Dr. Arvind Kumar, Director of the Institute of Robotic Surgery at Sir Ganga Ram Hospital said, "I was amazed at Sanya's ability to go into the minutest of details in every clinical situation. In fact, while reading her daily diary, I almost thought it had been written by a resident doctor."
The Internship Program will now take place biannually. We hope to send over 100 students on internships next summer!
Swasti Acharya, Class XI, interned under Manav Rath, Creative Director at TIC India advertising. She helped design a logo for a
Tata Motors marketing campaign
Damini Babbar, Class X, worked on the United Nations Office on Drugs and Crime's events for World Anti-Drug day. She attended talks and interactions with many organizations, notably the Population Council, regarding drug abuse in India.