Tagore International School supports the 17 Sustainable Development Goals (SDG) of the United Nations
A little effort towards saving the environment is better than no effort.
Think sustainable, be sustainable and do sustainable
SDG based theme boards - A call for action to change our world
Every month, students are setting out a supremely ambitious and transformational vision through the SDG theme boards. They envisage a world free of poverty, hunger, disease and want, where all life can thrive. They envisage a world free of fear and violence. A world with universal literacy. A world with equitable and universal access to quality education at all levels, to health care and social protection, where physical, mental and social well-being are assured. A world where they reaffirm the commitments regarding the human right to safe drinking water and sanitation and where there is improved hygiene; and where food is sufficient, safe, affordable and nutritious. A world where human habitats are safe, resilient and sustainable and where there is universal access to affordable, reliable and sustainable energy.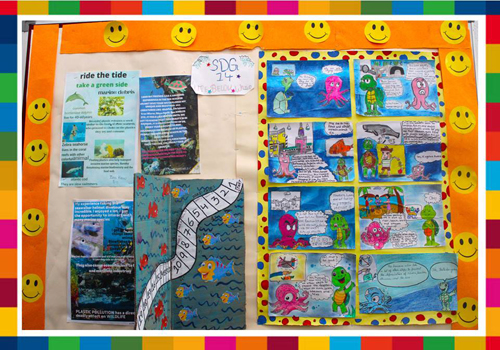 BACK