'Positive Parenting' by Dr. Roma Kumar on 30/05/2020
Today's parents are believed to be in constant pressure to get everything exactly ''right''--a pursuit of perfection that probably makes parenting feel hard. Parenting is a learning journey and children don't come with instruction manuals. Therefore, it is imperative for parents to participate in parenting workshops, which are crafted to help them become more empowered. To help put all the agony created by these unprecedented times we had a very experienced and renowned psychologist Dr.Roma Kumar, who has been associated with the field of mental health for more than 3 decades now. Dr. Kumar is the Senior Consultant Psychologist at Institute of Child Health, Vice Chairperson (Psychology) at Institute for Psychiatry and Behavioural Sciences, Sir Ganga Ram Hospital. Senior consultant at Max Hospital Gurgaon, Founder of Saksham Child and Adolescent guidance Clinic, Chief Child Psychologist at Moms Belief, Partner and Co-founder at Emotionally which is an online therapy, counselling and coaching platform created and designed by an experienced team of Psychologists, Coaches, Business and Technology professionals.
She helped our parents refresh their parenting skills, learn some wonderful new ways to positively parent and to develop some strategies for dealing with challenging behaviour. The session equipped parents to deal with all the confusing doubts, puzzling moments, and contradictory emotions that parenting entails.
'The digital COVID Era Predictive on Precautionary' by Mr. Ankur Patial on 23/05/2020
In this digital world, where children are increasingly wired to social media and the internet, the concerns of cyber security, cyber bullying, and cyber hygiene are pertinent. Parents too need to be well-informed of what steps they can take to keep their children safe. With this notion, the school hosted an online session for parents (Classes VIII to X) by Mr. Ankur Patial an evangelist who has coached multiple organisations to develop a secured environment for the next generation. A veteran in the digital security world, Mr. Patial shared with us his experience, on how he has helped institutions and people live a digitally secured life. He has over 20 years of experience across organisations like MacAfee, Trend micro and crowd strike. These organisations work towards protecting digital devices across the globe.
The parents were introduced to various terminologies like Cyber Bullying, hacking, fishing, cloning, data theft, digital frauds and grooming. Several case studies were shared with them and they were further sensitized towards privacy and security of data. They were also made aware about various ways like two-step verification, comment control, using a strong password, etc. that can be adopted in order to avoid Cyber Crimes. He also emphasised that right orientation and proper parental awareness can restrict the cyber related problems to some extent.
He concluded the session by sharing some tips for internet banking and safe online transactions. He also shared the website https://haveibeenpwned.com/ to check if you have an account that has been compromised in a data breach.
'Parenting an Adolescent' by Dr. Aruna Broota (10/05/2020)
Parents need to fill a child's bucket of self-esteem so high that the rest of the world can't poke enough holes to drain it dry - Alvin Price
Dr. Aruna Broota is a Psychologist, Hypnotherapist and Alchemist Trained psychologist. She is an acclaimed mental health expert, revered people-transformation expert and a highly sought after employee engagement expert with world's leading corporate conglomerates, schools, colleges as her clients Dr Aruna Broota has over 4 decades of wow work equity. Her numerous scientific research breakthroughs, ongoing popular publications, well attended group motivation/training sessions, regular public counselling over radio, TV and print media and successful individual counselling practice makes her a uniquely experienced.
Dr. Broota emphasised that parents are the role models for children therefore, it becomes imperative for them to unlearn a few things and to acquire many new skills to model the personality they would like their child to be. She also stressed that it is imperious that parents boost the self-esteem of children at all levels. Very eloquently she explained that positive parenting is an amalgamation of parenting techniques based on love, respect, encouragement, discipline using assertiveness, care and positive environment. With many questions, doubts and dilemmas being clarified at the workshop, it turned out to be a highly interactive session.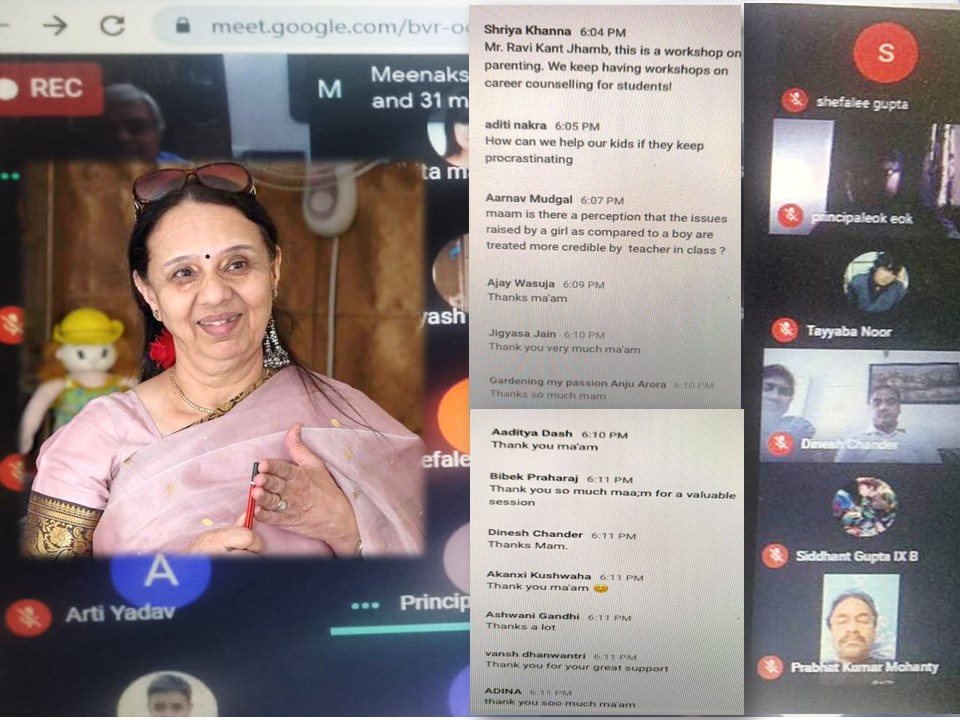 'Positive and Happy Parenting' by Dr. Jitendra Nagpal (09/05/2020)
Your children need your presence more than your presents - Jesse Jackson
Dr. Jitendra Nagpal is a Senior Consultant Psychiatrist in Moolchand Medcity, New Delhi. He is a distinguished Psychiatrist with special focus on child, adolescent and women problems. Dr. Nagpal is a member of various committees for protection and promotion of mental health of children and adolescents and is involved in health policy making. He is also the Director of Expressions India, an NGO that coordinates training and consultation of school based mental health programs throughout the country supported by the World Health Organization. Dr Nagpal is a regular columnist and consultant on leading national media, both print and electronic (CNN, IBN, NDTV, Times of India Group, India Today, Hindustan Times, Jain TV, Sab TV) for mental health issues.
Dr. Nagpal resolved the queries of parents and motivated them to make the most of the family time available due to the lockdown. He suggested various collective family activities that can be done during the lockdown period. At all levels he emphasised on striking a balance of where to place boundaries, where to encourage, and where to discourage children.
'Positive Parenting' by Dr. Roma Kumar (09/05/2020)
Stop trying to perfect your child, but keep trying to perfect your relationship with him/her - Dr. Henke
In keeping with our promise to pro-actively reach out in forms of workshops and seminars we had a powerful orator and a renowned psychologist Dr. Roma Kumar to conduct a session for the new set of parents. Dr. Kumar is a senior consultant at Max Hospital, (Gurgaon) and at the Institute of Child Health, Sir Ganga Ram Hospital. She has been featured in prominent scientific national and international journals, In textbooks, newspapers, magazines as well as on Radio and TV Channels.
The aim of this workshop was to motivate the parents to create a positive family atmosphere, believe in the concept of listening to their wards and to effectively meet up to any parenting challenge during the time of pandemic. She spoke about the importance of setting a routine for children and striking the right balance between disciplining a child and giving into his or her emotional needs.
Workshop on 'Choices of Streams and Careers'
Date: 22nd October, 2019
Resource person: Mr.Arindam Bhattacharya
Participants: Parents and students (IX & X)
Venue: TIS, EOK (Audi 1)
Podcast
The school organized a workshop on "Choices of Streams and Careers"for the students and parents of Class IX and X, on October 22, 2019. The workshop was conducted by Arindam Bhattacharya. He emphasized on the fact that education is just not the harbinger for sustenance but it is also about pursuing the true essence of one's life.
The aim of the workshop was to help the students make informed decision. The session covered various facets of career choice and its determining factors such as aptitude and interest, availability of opportunity and inherent potential. Urging the students to believe in their strengths and follow their passion, the resource people also threw light on the various skills required for pursuing a particular career, and how a combination of such skills is essential for success in a field. Further the students were introduced to the various career paths available under the categories Humanities, Science, Commerce, Vocational Skills and new careers based on competitive exams. The senior headmistress Ms.Shefalee Gupta also apprised the parents about the subjects offered by the school and answered queries posed by the parents. It was indeed an enriching experience, particularly to those who were still indecisive in deciding their streams and careers.
Clinical Psychologist, Sir Ganga Ram Hospital & Max Hospital
Date: 12th October, 2019
Resource person: Dr. Roma Kumar
Participants: Parents (I – V)
Venue: TIS, EOK (Audi 1)
It is an acknowledged fact that parents play an important role in a child's life and certainly the 21st century generation presents particular parenting challenges.Being a parent is no less than bliss; however, there can never be a more daunting task than to find a perfect way to parenting. Children learn more from what we are than what we teach. Therefore, it becomes imperative for us as adults to unlearn a few things and learn/acquire many new skills to model the personality we would like our child to be. Parents of classes I to V attended a workshop on Positive Parenting as part of the Parents' Enrichment Program. The workshop was facilitated by Dr. Roma Kumar, a Senior Consultant at the Institute of Child Health at Sir Ganga Ram Hospital, and at Max Hospital, Gurgaon. Dr. Kumar has vast experience and has been featured in prominent scientific national and international journals, in textbooks of Pediatrics and Psychology, newspapers, magazines as well as on Radio and TV Channels.
She spoke about the importance of setting a routine for children and striking the right balance between discipling a child and giving into his or her emotional needs. A more participative, involved style of parenting will build trusting relationship between the parent, child and the school and will make more secure and mature adults in future. With many questions, doubts and dilemmas being clarified at the workshop, it turned out to be a highly interactive session.
"Understanding Adolescent: Workshop"
Date: 3rd August, 2019
Resource Person: Mr. Pritish Bhavani
Participants: VI to VIII, IX to XII
Venue: Audi 1
The key speaker for the session was Mr. Pritish Bhavani. He founded A Cry For Help in 2014 as a 15 year old and is currently serving as the Managing Trustee. He has represented the country & A Cry For Help at Changemaker X Change 2017 in Philippines and 2019 in Indonesia. He is the Winner of Pramerica Spirit of Community Awards. Mr. Bhavani is also a part of Ashoka Youth Venture, which is supported by notable people like Kailash Satyarthi and Mohd. Yunus. He aspires to establish self-help groups in schools to help teenagers in dealing with problems such as self-harm, bullying and peer pressure.
The workshop 'understanding adolescent' aimed to apprise the parents about the problems students might go through and the various ways to deal with them. It provided an opportunity to gain evidence-based knowledge, receive awareness and support. The topics that were addressed during this session were Mental Health, Bullying, Self – harm, Suicide, Substance abuse and Peer Pressure.
Orientation for Class XI, July 20, 2019
'Sexuality Education'
Date: 20th July, 2019
Resource Person: Ms. Jaya Aiyappa
Participants: Parents (classes VI to VIII)
Venue: Audi 1
The key speaker for the session was Ms.Jaya Aiyappa. A counsellor, corporate trainer, sexuality educator she is a post- graduate in Social Work from the Delhi School of Social Work. She practices the humanistic and cognitive -behavioural approaches of counselling, enabling people to deal with their various interpersonal, intrapersonal and emotional issues. With more than 2 decades of experience under her belt, she is an expert in her field. Some of the areas she specializes in include marital/relationship counselling, adolescent issues, workplace issues, stress, parenting, premarital, sexuality counselling etc. She has worked extensively with a number of NGO's where she strengthened her skills in counselling and understanding of human behaviour. As a trainer Ms Aiyappa has conducted workshops for schools, colleges and corporates on a number of topics including life skills, relationships, sexuality, pre-marital awareness, behaviour skills and self-growth.
The session provided the parents a glimpse of the information that was planned to be shared with the students in the following sessions, their queries were answered and they were motivated to discuss various issues with their children.
Orientation for Class IX, May 4, 2019