Classes VI-XII
Litmosphere– (Literary Club)
Litmosphere is the literary club of the school.
The aim of the club is to inculcate a fondness for language among students and to enhance their literary skills.
The wide spectrum of literary activities undertaken by the Literary Club includes book discussions, interaction with authors, review writing, literary quizzes, writing for various competitions and for the school magazine etc.
Members of the club from senior classes also hold sessions for literati of middle school which include activities such as spin a yarn, poem recitation, weaving a story and many more. The club members are also given summer reading lists and recommendations for books to read over the holidays.
In every school assembly, a literati ( a club member) announces a few words to enhance the vocabulary of all the students.
The literati from senior classes form the editorial board, their main job being editing of articles written by junior students.
The club welcomes anyone and everyone with a passion for writing, reading, and creativity
Teacher Incharge
1. Ms. Neetu Khanna

Office Bearers
| | | |
| --- | --- | --- |
| Post | Name | Class |
| President | Anushka Sabharwal | XI B |
| Vice President | Devina Jain | X B |
DebSoc(Debate Society)
The Debate Society, also known as the DebSoc, is one of the active clubs of the school. The DebSoc members are selected every year through a series of highly competitive Group Discussions, Speeches, and Debates. The members participate in more than 9-10 Model United Nations Conferences every year and have been regular recipients of awards at these conferences. The DebSoc of TISVV has been organising Tagore International School Model United Nations (TISMUN) for 2 consecutive years now. It has been a great success wherein we have had more than 300 students from several schools, in India and abroad participating every year. TISMUN is considered to be one of the top notch MUNs of the Delhi MUN circuit.
Teacher In-charge(s)
1. Ms. Anuradha Arora
2. Ms. Aastha Kapoor
Office Bearers
| | | |
| --- | --- | --- |
| Post | Name | Class |
| President | Syed Sameed Anwar | XII D |
| Vice President | Shayan Basu Roy | XI B |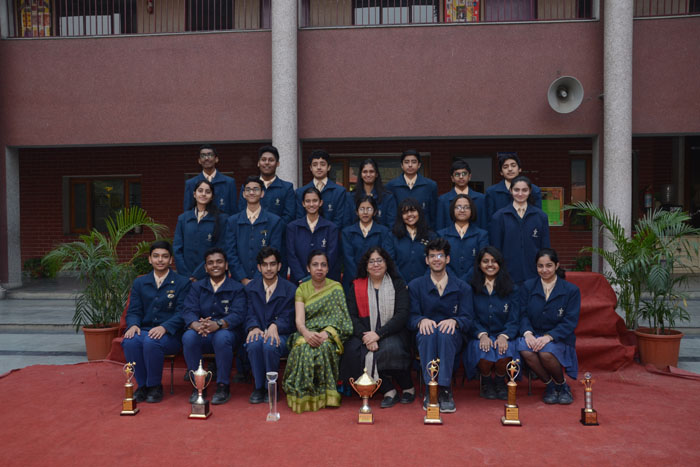 Shrishti(Art Society)
The members of the Tagore Art Society 'Shrishti' are proactively involved in various projects within and outside the school and have many laurels in Art Competitions. There are 22 members in the society ranging from Classes IX to XII. The motto of Tagore Art Society is to spread awareness about art practices and establish the connection of Art and Society through project works. Art society also organizes interesting art competitions for our school students to encourage art appreciation.
The Pallet (Wall Art Magazine), is an interactive project, where in students display different aspects of Classical and Contemporary art practices. Every Year art society students goes for Art Trips to different parts of country as part of experiential learning. Students of Shrishti are always involved in creating backdrops for major school events and contributed installations, paintings and sculptures for the school's value-based initiatives such as Organ Donation, Acid Attack Survivors etc.
Recently Quilling club is included under Art Society. Students of this club creates amazing quilling products ranging from greeting card, key chains, jewelry etc. These items are displayed on the days of different events in school and sold for charity.
Teacher In-charge(s)
1.Ms. Meena Nagpal
2.Mr. Anjon Bose

Office Bearers
| | | |
| --- | --- | --- |
| Post | Name | Class |
| President | Adya Aggarwal | |
| Vice President | Suhani Sinha | |
Students of Quilling club displayed handmade cards on 31st August 2019 at the parents teachers meet
Students of class XI are exposed to relation of Art and Community, thus implementing a learning module that will enable the students to connect with their direct environment and explore art as a medium of Communication and interaction.
Quizzador(

Quiz Club

)
The Quiz Club is a very active club and has members from classes VI-XII. In the last academic session, we had regular sessions with the famous Quiz Master, Mr. Arindam Bhattacharya, where students learnt tips for a successful quiz, different quizzing methods, how to identify their areas of expertise and how to strengthen their knowledge in those areas. Our Quiz Club members regularly attend various Inter-School Quiz competitions and win prizes. Inter-class and intra-class quizzes such as the Sports Quiz to commemorate the National Sports Day and the pop quiz on French Day Celebration are organized by the Quiz Club.
Teacher In-charge(s)
1. Ms. Niela Hariharan


Office Bearers
| | | |
| --- | --- | --- |
| Post | Name | Class |
| President | Puranjay Sharma | XI A |
| Vice President | Pradyumna Bendigeri | X A |
Quiz master Arindam Bhattacharya's Quiz workshop for students of classes IX and X
Online Inter-Branch Quiz held on 29 May 2020
An Online Inter- Branch Quiz competition was held on 29 May 2020 between our Vasant Vihar and East of Kailash branches. It was conducted by Quiz master, Mr. Arindam Bhattacharya. Six students from each branch participated. There were Four teams. Each team comprising of students from classes VI – VIII. The team comprising of Nidhir Bardhan of VI, Aditya Mathur of VII and Kaizan Minotra of VIII of Vasant Vihar stood first.
Online Inter-Branch Quiz was held on 11 May 2020
An Online Inter- Branch Quiz competition was held on 11 May 2020 between our Vasant Vihar and East of Kailash branches. It was conducted by Quiz master, Mr. Arindam Bhattacharya. Nine students from each branch participated. There were Six teams. Each team comprised of students from classes VI – VIII. The team comprising of Shanmukha Saai of VI, Aditya Mathur VII and Gurbani Bagga VIII of Vasant Vihar stood first.
Results
Team Name

Team members
Branch
Position

D

Shanmbukha S S Kasturi

Aditya Mathur

Gurbani Bagga

Vasant Vihar

I

C

Shaurya

Naitik Rai

Shreya Chhawar

East of Kailash

I

I

E

Shaurya

Naitik Rai

Shreya Chhawar

East of Kailash

I

I

I
Pyrotech (Computer) Club
The Pyrotech Club consists of Wiz kids who are talented in myriad areas such as digital imaging, web designing, movie making, robotics, programming etc. They help other students gain competence on new software. They not only participate in various inter school computer competitions but also organise computer events within the school. The Annual Inter-school Computer Fest 'Ordin@trix' is conceived, planned and organized entirely by the Pyrotech team.
Teacher In-charge(s)
1. Ms. Bhawna Garg
2.

Ms. Guneet Kaur
3. Ms. Meenakshi Tickoo

Office Bearers
| | | |
| --- | --- | --- |
| Post | Name | Class |
| President | Shaivi Shewaramani | |
| Vice President | Naman Chandok | XI C |
Students of Senior School had an Online Session on Photography and Movie Making by Mr.Kashu Bhalla , PhotoNest
The online interactive sessions on Photography & Movie-making were organized for the students of classes VI - IX & XI with Mr. Kashu Bhalla, Photonest. The sessions took place on 15 & 16 May 2020. The workshop aimed at bringing out the creativity of students by teaching them the art and techniques of photography & Movie-Making. It was designed to inspire young minds to see the various aspects of the same subject creatively. It provided a platform for interactive learning with hands on tips for students on Photography and Movie-Making. The students were given exposure to rules of Colour & Compositions, like rules of thirds, rules of leading lines, frame in frame etc., in photography along with differences in Short Film, Feature Film, & Documentary Films, Ideation, script writing, for feature films and short films. The workshop catered to a lot of queries about camera handing, ISO of a camera, green screen, screenplay etc to name a few. More than 130 students participated enthusiastically and made the workshop a success.
Eco Club
The Eco Cub which is called 'Green Teens' consists of about 40 members from the classes VI-IX. The aim of the club is to work towards protecting the environment and come up with the new ideas to improve the school campus. They have undertaken various projects such as paper recycling, rain water harvesting, waste segregation, recycling of tetra packs etc.
Teacher In-charge(s)
1. Ms. Vandana S. Gupta

2. Ms. Vinha Vijay

Office Bearers
| | | |
| --- | --- | --- |
| Post | Name | Class |
| President | Gulnoor Kaur | XI D |
| Vice President | Debashata Choudhary | X C |
Survey among school staff regarding segregation of waste
Planting of herbs and taking care of plants
Collection and segregation of paper for recycling
A fancy poster made from recycled paper
Earth Day 2020 Celebration #online
Earth Day is celebrated every year on April 22nd since 1970. The main aim of Earth Day is to raise awareness about the negative impact our actions as mankind have on our environment. With this eco-spirit, our young Green Teens Team , celebrated Earth Day this year at home and pledged to keep our mother earth safe for the future.
World Environment Day celebrated on 05 June 2020
World Environment Day is celebrated on 5th June every year. Its aim is to raise global awareness and mobilise action for environment protection.
In the year 1972, the United Nations Conference on the Human environment was held from 5th June to 16th June. After that, every year on 5th June, it has been hosted by different countries of the world with different theme.
This year's theme of World Environment Day is BIODIVERSITY.
Biodiversity boosts ecosystem productivity where each species, no matter how small, all have an important role to play.
For example:
Greater species diversity ensures natural sustainability for all life forms

Healthy ecosystems can better withstand and recover from a variety of disasters.
And so, while we dominate this planet, we still need to preserve the diversity in wildlife.
To keep up with the pace our CLIMATE WARRIORS have contributed to mother earth in a variety of ways.
Making bird feeders

Planting trees

Writing slogans

Making posters
TAKING A PLEGDE TO PROTECT MOTHER EARTH
Pledge to be climate-conscious, create awareness within families & communities. Every minute counts, be a Climate Warrior.
Towards a pollution-free planet
Human activities contaminate ecosystems around the world—from pole to pole, from the highest mountains to the ocean deep. Toxic chemicals can be found in pristine forests and the blood of Arctic animals. Litter floats beneath the surface of oceans miles away from land. Even excess noise and light are interrupting natural patterns and disrupting the lives of animals and people.
Pollution today is pervasive and persistent. While the world has achieved significant economic growth over the past few decades, it has been accompanied by large amounts of pollution, with significant impacts on human health and ecosystems and the ways in which some of the major Earth systems processes, such as the climate, are functioning. The posters describes the pollution challenge, explores what is already being done to address pollution, and proposes focused and actionable interventions to address pollution in all its forms. Let us all take a call on the occasion of WORLD ENVIRONMENT DAY (5TH JUNE 2020) to act towards a pollution-free planet.
A pollution-free planet is by far and away the best insurance for the survival and well-being of current and future generations of humans and ecosystems.
PLASTIC TIDE TURNER
WWF organization organized a Plastic Tide Turner challenge with 3 rounds - Entry level, Leader level, Champion level and each level having 4 tasks each.
Tishya Chandok of class 7C has successfully completed all the 3 rounds. The 3 rounds included various online talks, making of posters and a lot of creativity.
She has received the certificate of merit for completion of the CHAMPION LEVEL. And as been given the title of a PLASTIC TIDE TURNER.
Photography Club
The Photography Club was officially set up in school in the session 2014 – 2015. It provides a unique platform for enthusiasts to showcase their photographic art as an expression of sensitivity, fun and joy. To offer situations to practice photography , the enthusiasts of the Club regularly take photo walks . Frequent workshops are conducted by Canon ,to guide and encourage students about the skills of the art.
Teacher In-charge
1. Ms. Meenakshi Tickoo
2. Ms. Swati Gupta

Office Bearers
| | | |
| --- | --- | --- |
| Post | Name | Class |
| President | Manya Kamath | XI B |
| Vice President | Suhana Mehta | XI A |

Display of exquisite work done by students at Parents Teacher Meet on 7th September 2019
Session on "Photography Gears" conducted by Mr. Imran Kokiloo for the students of Photography club on 20 July 2019
Tagorean Awareness Society
Tagorean Awareness Society was founded in 2014 .It aims at promoting cleanliness in school and supports a school for the underprivileged. To inculcate the feeling of cleanliness among the students TAS has initiated the 'Cleanest Classroom Award' for middle school & senior school. The winner is announced every month. They receive a trophy which they proudly display in their class for a month. The TAS members visit the Samparan School in Vasant Kunj where they conduct activities for the children. They also distribute storybooks and eatables.
Teacher In-charge

1. Ms. Maitreyee Bhattacharya
Office Bearers
| | | |
| --- | --- | --- |
| Post | Name | Class |
| President | Shradha Hariharan | XI B |
| Vice President | Trisha Sood | X C |
Science Astronomy - Kritika
Space club seeks to build fascination, innovation, passion and total commitment to vision of spreading the awareness and knowledge of astronomy facts to the students. In the club, over the session the astronomers from the SPACE expose children to various activities related to celestial bodies.
Teacher-in-charge
Dr. Remy Kaul

Ms. Tulika Joshi
Webinar on "Our Cosmic Consciousness"
Our students, of class X along with students of the Astronomy club,organized a webinar on Our Cosmic Consciousness on Saturday, 18.7.2020.
Dr .Debiprosad Duari,Director,Research & Academics,
M.P Birla Institute of Fundamental research,M.P Birla Planetarium,an illuminary in the field of Astronomy shared his vast knowledge on the subject through an effective and absorbing presentation with the participants.
Dr Duari deliberated on various interesting pieces of information about Planets, Comets, Asteroids, Sun & Stars.The sessions was concluded by our respected speaker on the note that Astronomy encompasses all other disciplines of science in it.
The session was a huge success with as many as 110 participating in it.Dr. Durari was highly impressed by the quality of the questions that students our school put forth in the question answer session.
Astronomy Day Celebrated on 19 February 2020
The event was organised by students of Astronomy club from classes VI to VIII and it had a display of various astronomy related activities.
There were a lot of queries exchanged between the students and teachers which made an interactive session amongst the students. Overall the observation camp was a successful activity where astronomy club students learnt the basics of astronomy in an easy way and gained practical knowledge.
S.O.C.H - The Society Of Caretakers of Heritage
While a school is an institution wherein the dissemination of education takes place, what sets Tagore International School apart from others in the field, is its constant endeavor to see through the impact of this education by creating opportunities for the young minds to apply the learning gained.
One such step in this direction was taken by 'Dharohar', the Heritage club of the school that created a separate group of the senior school students and decided to call it 'SOCH- The Society Of Caretakers of Heritage . Through this initiative, these students were given a platform to become guides for their juniors, the students of class V and conduct heritage walks for them and their parents.
The volunteers from classes IX –XI became a part of this new initiative and post an extensive research carried out by them, they conducted the first walk for class V C on Friday 05 February 2016 at the Safdarjung's Tomb. The group was successful in generating a great degree of excitement among the students who took the walk and were greatly praised by their class teacher, Ms. Shivani Sharma who also accompanied them. An annual heritage walk for the parents of the students has also been organised ever since.
Teacher In-charge
1. Ms. Yachna Villaitrani
Office Bearers
| | | |
| --- | --- | --- |
| Post | Name | Class |
| President | Sanya Sarin | XI A |
| Vice President | Divya Sijwali | X A |
More