Awards & Achievements of TIS Faculty
The school along with its commitment towards academics and co - curricular activities also makes relentless efforts to raise conscientious and worthy citizens.
Our initiatives have been applauded over the years and brought us prestigious awards. These awards, along with praises and words of appreciation, from important personalities and organisations motivate us to do even better consistently.
School felicitated for participating in first International Olympiad Of Value System, Health and Wellness in December 2020
School participated in the World's first International Olympiad Of Value System, Health & Wellness by Zenik Learning. The Olympiad aimed at enriching the young generation with 21st century skills.
In recognition of the school's performance in the Olympiad, we bagged the Award for Excellence in Values and Success Skills for the school and the management.
TIS bags The Indian Green Building Council Award
A 'Green' building is a building that, in its design, construction or operation, reduces or eliminates negative impacts, and can create positive impacts, on our climate and natural environment. Green buildings preserve precious natural resources and improves our quality of life.
Green buildings can prove to be true catalysts for addressing some of the world's most pressing issues.
We are extremely pleased to announce that The Indian Green Building Council (IGBC), part of the Confederation of Indian Industry (CII) has presented the Final Score Card of IGBC Green Schools under existing school category for project # GS200055, and our school has bagged
an 'IGBC Gold' Rating.
Congratulations to the entire TIS family for the commendable efforts in implementing the green measures.

School is proud recipient of COVID CHAMPION AWARD for academic excellence in the times of pandemic
Our school has won the Dr Syama Prasad Mookerjee Commendation COVID Champion Awards in June this year .The online ceremony for the same was held on 11 December 2020 by Fifth Estate Forum(ReTHINK INDIA)
We are very proud of our achievement for being a COVID Champion school for academic excellence during this time and thank all the stake holders for their support.
School is bestowed upon with ' Smt. Sushma Swaraj Stree Shakti Samman' on 25th Sep, 2020
We are honoured to have received 'Smt. Sushma Swaraj Stree Shakti Samman' on 25th Sep, 2020 by ReTHINK India. This is a coveted recognition for championing the cause of STREE SHAKTI by recognising & nurturing values like character, quality, achievement, vision, bolstering different dimensions & attributes beyond institutional confines.

School won World Award For Value Education (WAVE) by the Indian Institute of Ecology and Environment ,New Delhi on 13 March 2020
Ms. Anupriya Malik, TGT Science and teacher in charge of Eco Club of our school received the same on behalf of the school in the felicitation ceremony.
School bagged the Brainfeed School Excellence Award 2020 on 06 February 2020
School is proud recipient of Brainfeed School Excellence Award for enriching the standards in imparting excellence in education to the gen. next learners.

Best Enterprising school declared at National Level Innoventure Challenge at Vishwakarma Institute of Technology ,Pune in January 2020
Intelligent plus held a national level 'Innoventure Challenge' on Jan 18 and 19 ,2020 at Vishwakarma Institute of Technology ,Pune. Our school bagged the prestigious title of " Best Enterprising School" among 110 other schools and 45000 participants.The competition was held in three rounds -a pen paper test which was held at our school premises ,where in many made it to the second round of telephonic interview.Five students made it to the finals with amazing state level and national level ranks.These students :
then competed with 30 other students at the National level where participants had to think and present a given topic ( social problems) innovatively and create a 2D chart /3D model of a prototype giving solutions which was followed by a presentation of the same.These participants not just brought laurels for the school but came back with vast and lovely experiences.The school was also given a gift voucher of Rs 35000 and a Titan watch .
School got felicitated as 'Future Ready School 2019 ' at World Education Conclave in December 2019
We are extremely proud to share that our school has bagged the title of "Future Ready School 2019". Our Dean of Academics, Ms N Saroj was felicitated with this award at the 3rd World Education Conclave at Radisson Blu, Delhi on 16-17th December 2019.
School ranked No.1 in India under Top CBSE School- Parameter wise for "Co- Curricular Education"
In a survey conducted by Education Today, our school is ranked No.1 in India for imparting holistic "Co Curricular Education" . India School Merit Awards ,2019 are based on Jury rating, Parent's votes and Education Today Team Analysis .The principal, Ms. Nikita Tomar Mann attended the felicitation for the same in an award ceremony held on 13 December 2019 at The Chancery Pavillion , Bangalore.
Our Principal ,Ms.Nikita Tomar Mann bagged award for being Progressive Principal of India 2019 by Rethink India on 11December 2019
We are very proud to announce that our school Principal, Ms Nikita Tomar Mann has won the prestigious award title - 'Progressive Principal of India 2019' by ReTHINK India for being the most progressive principals of the year. This award recognises and felicitates the school principals across the country for being the best role model for the schools across India. Ma'am was felicitated with this award on 11th Dec 2019.

Futuristic School of India Award conferred by Rethink India Institute on 11 December 2019
Our school has won one of the prestigious awards, 'Futuristic Schools of India' by ReTHINK India for being the most progressive school under the category of 'Social Serve'. We received the award on 11th Dec 2019 for our social awareness campaigns - Breaking Barriers, Flawless Flaws and Kick Start Equality. Our school principal, Ms Nikita Tomar Mann, Dean of Academics, Ms N Saroj, Junior School Headmistress, Ms Shruti Sharma and Project Director, Ms Vedica Saxena were invited to receive the award.
Our principal took this opportunity to share with other school principals present at this event about what each campaign does and how we are working towards sensitizing the society and other schools on these human rights initiatives so that more and more schools take up such causes.
Our Principal, Ms. Nikita Tomar Mann felicitated by Indian Institute of Human Rights Congress on 10 December 2019
Our Principal, Ms Nikita Tomar Mann was felicitated by Indian Institute of Human Rights on the occasion of 20th World Human Rights Congress (Theme: Democracy & Human Rights). The ceremony was held on 10th Dec'19.
School team declared overall winners at Youth Entrepreneur Business Challenge organised by tGELF in December 2019
Youth Entrepreneur Business Challenge: tGELF - JA LEAD Company of the Year Competition was held on Saturday, December 7, 2019 and Sunday, December 8, 2019 at Scottish High School, Sector 57, Gurgaon.
The competition was tGELF/ JA's annual celebration of the achievements of the Company Program students. The competition was not simply a business competition for young people. The goal was to balance the business achievements of each company as a whole with the personal development of each individual member.
12 teams from across India participating in the competition appeared before a panel of independent judges. Team of Tagore International School, Vasant Vihar was declared overall winners. Their business model of cushions made from recycled plastic fibre was appreciated by all judges.
Second Runners Up at Harmony, Youth Leadership competition by tGELF for the session 2019-20
Our students, Vania Kapoor from XI A and Vaishnavi Pandey from X C participated in the Youth Leader Competition hosted by tGELF (The Global Education Leadership Forum) under the category of Sustainable Development Goals 3 ('Flawless Flaws' campaign). The Youth Leader Competition is a 6 months, stage-wise student engagement competition to identify exceptional talent with emphasis on ethical, altruistic and action‐oriented leadership. The vision of the competition is to promote the spirit of service for others, to identify and to solve varied social challenges.
There were hundreds of schools from across the country that participated in this competition and after clearing 4 rigorous stages of competition during the period of April 2019 to November 2019, our school made it to the country's top 10 finalists. The finale was held on 8th Dec 2019 at Scottish High School, Gurgaon where the students had to present their complete 6 months project to the judges in 10 minutes time, followed by a Q & A session. They were applauded by the judges as well as the audience and won the position of 2nd Runner Up.
School felicitated in the category of 'Integrated Schools 'by Nipman Foundation Equal Opportunities Award 2019 on 13 Novemver 2019
School has been selected as a Winner in the category – Enabler: Integrated Schools for the Nipman Foundation - Microsoft Equal Opportunity Awards 2019.The Equal Opportunity Awards were instituted in 2014 and recognise organisations and individuals empowering Persons with Disabilities in their workspaces and lifestyles. Our school emerged winner out of 219 applications received this year and after a rigorous selection by a screening committee and an independent Jury chaired by Dr. Shamika Ravi, Director of Research at Brookings India. E&Y was the official tabulator for the Awards. The awards with Microsoft as a title partner, is recognized by UNESCO MGIEP and NITI Aayog, Govt. of India.
Our school selected in top 12 schools to exhibit 'Best Practices' at CBSE 25th Sarv Sahodaya Conference at Vigyan Bhawan , New Delhi on 01-02 November 2019
Our school won a chance to showcase our two very important social awareness campaigns, 'Breaking Barriers' and 'Flawless Flaws' under the theme "Students As Change Makers". The conference was attended by more than 2000 principals from schools all over India . We had put up a stall presenting our work since its inception. It was also a great opportunity for us to connect with other interested schools who wanted to start similar campaigns in their schools.The students were applauded for their efforts and for possessing feelings of human empathy . The visitor also showed their support by getting clicked at our stalls.The students were appreciated for having made a difference in the mindset of society at large.
Brahmakumari ,Sister Shivani (one of the speakers at the conference)and State Minister for HRD, Shri Sanjay Shamrao Dhotre also visited our stall .
School won the winner's trophy of NEVS Camp 2019, held at Dudhwa Tiger Reserve
Our school team comprising of students of class V have won the winner's trophy of the 11th Edition of National Environment Science Camp 2019, held at Dudhwa Tiger Reserve organised by Karavan Heritage and Nature Society. As always, our students performed exceptionally this year as well.
Winning the N E V S Camp Trophy is really a big challenge. Points are awarded not just for the final outcome but also for discipline, team work, analysis, creativity and problem solving. Our students have excelled in all aspects.
School is proud winner of THE GREEN SCHOOLS CAMPUS AWARDS 2019-20
by
THE CLIMATE REALITY PROJECT
On the 9th of September TAGORE INTERNATIONAL SCHOOL, VASANT VIHAR has been announced as the winner and awarded THE GREEN SCHOOLS CAMPUS AWARDS 2019-20 by THE CLIMATE REALITY PROJECT, founded by Nobel Laureate and former US Vice President Al Gore at the international conference on sustainability and education (ICSE) held at The India Habitat Centre, NEW DELHI. Our mission is to catalyse a global solution to the climate crisis by making the urgent action a necessity across every level of society.
The awards were conferred by Kamal Meattle, an Indian environmental activist and CEO of Paharpur Business Centre & Software Technology Incubator Park based in New Delhi, India. And Aditya Pundir Country Manager, Climate Reality Project India.
The Principal, Ms. Nikita Tomar Mann felicitated as principal par excellence
School is proud recepient of the award for imparting holistic and high standard of education to the students of the nation.
The International Hospitality Council and IIHM felicitated our principal,Ms. Nikita Tomar Mann with "Award of Excellence" as a Principal par excellence for creating a better tomorrow and enhancing the young minds with supreme zeal.
School bagged the 'Distinction Award' by Special Olympics for the year 2018-19
School proudly and humbly received the award by Special Olympics for achieving National Standards of a Unified Champion School for the year 2018-19.
Dr. Syama Prasad Mookerji Commendation for Education Award in July 2019
School has been felicitated with 'Dr. Syama Prasad Mookerji Commendation for Education Award ' in July 2019 for reinstating India's cultural & civilizational vision through education . Our principal , Ms. Nikita Tomar Mann received it on behalf of all Tagoreans . There were seven core parameters which were judged and school is proud enough to have qualified in all of them , standing true to its mission of holistic education and development of students.
School bagged 'Brainfeed School Excellence Award 2018-19 '
Another proud moment for Tagoreans as school was honoured as a 'High Performing School' at AKS Education Awards on 25 February 2019
School felicitated with Citation of Honour on 21 February 2019 by Expressions India for providing holistic and inclusive education
Our Principal felicitated as one among 100 Highly Effective Principals of 2018
AKS Education Awards recognizes meritorious principals for their contributions to schools and communities. The program crowns those Principals, who have spearheaded initiatives to increase students' performance, endorse safe learning environments and create partnerships with parents and community members.
Our Principal, Ms. Nikita Tomar Mann is proud recipient of this award on 25 February 2019 in the category of top "100 Highly Effective Principals 2018".
Runners Up at 'NU Innovators Challenge' hosted by NIIT University at their campus in Neemrana on 30 January 2019
Tagoreans once again brought laurels to school as their project bagged second position at ' NU Innovators Challenge ' organised by NIIT University .
The project 'Maverick' , the brain child of two students- Vaibhav And Asees of class XI aims at making visually impaired self dependent when it comes to navigating in their immediate surroundings. They not only conceptualized the idea but also implemented it and designed a prototype of the same . This innovation of theirs demonstrates their sensitive side and empathy towards differently abled and bagged them runners up trophy in the event.
Our Principal, Ms. Nikita Tomar Mann is proud recipient of 'Guru Drona Award 2018' at 6th National Conference hosted by Brainfeed on 16 December 2018
School received the International School Award 2018-21 by The British Council
The school received the International School Award 2018-21 for outstanding development of the international dimension in the curriculum.
School bagged the first prize in Harmony 2018
Project Drishti , initiated in school by V. Chaitanya and Muskaan Bhatt of class XI, aims at providing quality education to the visually impaired students was our entry for Harmony 2018 . Harmony is an annual event organized by the Global Education and Leadership Foundation which brings together students from across the country with the objective of searching for social, action-oriented leadership talent. Our school bagged the first prize among 10 other schools participating from all over the country. Both V. Chaitanya and Muskaan were awarded a cheque of ₹10,000 each which they have donated for funding activities of our other school campaigns.
School won 'IILM Young Citizen Award' for Innovation and Social Impact in October 2018
On 24 October 2018, V. Chaitanya , a team leader of Project Drishti which is conceptualized around providing quality education to the visually impaired, showcased the elements of the project at the IILM Young Citizen Award for Innovation & Social Impact. The project won the first prize out of 60 others that were presented by different schools from all over the country. The prize distribution ceremony took place on 24th itself at the UN House in Lodhi Estate during UN Day celebrations where Mr. Yuri Afanasiev ,the UN Resident Coordinator and UNDP Resident Representative in India, handed over a trophy as well as a cheque of Rs. 1 lakh to V. Chaitanya. The entire prize money has been donated by the project members back to school and will be put to use for developing more learning tools for the visually impaired and funding activities of the other 'We Care' projects in school.
Recognition for being the 'Best CBSE school in Co Curricular Education' by Education Today on 08 September 2018
School is proud recipient of the Jury Choice Award for being the top CBSE school in imparting the best co curricular education among all other schools .
Congratulations to Tagoreans for Winning First Prize in Shanghai International youth Science and Technology Expo 2018
Five students, accompanied by Ms. Gauri Sen and Ms. Shruti Chandhoke had yet another opportunity to participate in the Shanghai International Youth Science and Technology Expo (SIYST), the seventh of its kind held this year between 20-23rd July at Shanghai, China.
We were indeed proud to be the only school representing India at this expo. Among the 254 participants from13 countries, and a total of 45 exhibits showcased, we take pride in announcing that our exhibit titled: Assistive applications for the visually impaired bagged the first prize. The team comprised of SparshTanwar ,Aditya Kabu , Ansh Matta, Aditya Sharma, and Anisha Arya who worked under the guidance of Ruby ma'am, Gauri ma'am
Not only this, our team also won the 2nd prize in the bridge making competition, in which a bridge had to be constructed using Styrofoam and thread.
Even our teachers were no way behind. Gauri Sen Ma'am was awarded a prize for her presentation titled: Innovation in education using technology.
Of course, what is work without no leisure. Our trip to Beijing was the icing on the cake. We got a chance to explore the Great Wall of China, The Summer Palace and Tianamen Square. We also visited the Jade factory and the local market to buy some souvenirs for our friends and family.
It was indeed an enriching and a memorable experience, which would not have been possible without the support of the Science Faculty ,school management and accompanying teachers, who took care of us as our family would.
Dr. Munni Irone, the philanthropist royal queen of Beverly Hills felicitated the school with the Art For Peace Award on 22 January 2018 during her visit to school
Trophy for overall third position at the Zonal Level Science Activities and Exhibition 2017 organized by DOE (Directorate Of Education)
Our School won trophy for overall third position at the Zonal Level Science Activities and Exhibition organized by DOE (Directorate Of Education)
Our students won the first prize in Science Drama competition and the topic for the competition was "Digital India". Participants were:
Saivansh Kwatra of VI A, Saburi Chopra, Chhavi Jain, Sanchit Kumar of VIII A, Shraddha Hariharan, Shayan Basu, Vaishnavi Pandey of VIII C and Dhruv Vasan of VIII B. They have qualified for the district level competition.
Vanshika Kathuria and Ansh Matta of class IX A stood first in the Science Seminar Presentation. The topic for the presentation was "Role of Science and Technology in Swachh Bharat Abhiyan"
Ujjawal Shukla of class IX B won the third position in the Science Debate competition. The topic for the debate was "Mobile : a convenience or a problem"
Aashray Mittal of class VII won the second prize in the junior category. The topic was "Petroleum Pollution"
Aadya Gupta of class IV A stood first in the Sub-Junior category. The topic was 'Make our Planet Green'.
In Science Toon competition, students had to design a cartoon on any scientific theme. Yash Marwah of VIII B secured the third position.
Science and Math were collectively represented with a mathematical model named 'Fractal'. Anshika Sansanwal and Pranav Anand of class IX presented their creation and won the third prize for the same.
Award for the 'Skill Centric School' on 03 October 2017
School bagged the award for being a 'Skill Centric School' in an International held by Confederation of Indian Universities on 03 October 2017.
Five teachers of our school heading their respective departments along with our Academic Dean and members from the student council of school received this award for their exemplary teaching. The event took place at Indian International Centre on the auspicious occasion of National Skill Development Summit.
The teachers who received the award are:
Ms. N Saroj (Dean Academics)
Ms. Rumna Mitra Lala (HoD English)
Ms. Shruti Chandhoke (HoD Mathematics)
Ms. Uma Chopra (HoD Hindi)
Ms. Anuradha Arora (HoD Social Sciences)
Tagoreans won four bronze medals and a gold medal at the International Royal Military Young Scientist Conference
and Exhibition (i-RYSCE)
Seven students accompanied by Ms. Gauri Sen went to Kuala Lumpur, Malaysia to participate in the International Royal Military Young Scientist Conference and Exhibition (i-RYSCE) from 10 July to 15 July 2017.
Our school was one of the four schools, representing India at this expo. Among 250 plus exhibits by 11 countries, our school bagged four bronze medals and one gold medal. The team consisted of Pranav Bhatia , Manan Bhatia of XI C , Manav Gupta of IX A, Gurmaan Singh, Garv Gupta, Manav Gupta, Kabeer Kundra and Pratyush Saini of VII C-who also won the Youngest Scientist Award at his age of 11.
Ours was the only school to win awards for each of our projects, and the ideas were also appreciated by the judges.
The students, on behalf of the school, met with Dr. Harshvardhan, Minister at Ministry of Science & Technology (India), Ministry of Environment, Government of India, at his residence and received a certificate of appreciation, signed by him.
The school won the 'Global Sustainable School Awards 2017' for promoting UN Global Sustainable Goals through education in the academic year of 2016-2017
The sustainable goals opted by our school are ' Affordable and Clean Energy & Reduced Inequalities'. We have achieved the desired results through conducting various activities like 'Breaking Barriers Campaign' and 'Setting of Solar Panels' which were steered by more than 180 students and under the supervision of proficient teachers. The students who participated in these activities conducted workshops and sessions in other schools which has helped in creating sensitivity towards the LGBTQI community.
School bagged Junior Astitva Samman 2017 at PHD Chambers of Commerce and Industry as a recognition of its efforts towards women empowerment. Students of class X received the award .
The school bagged excellence award among top schools of Delhi for its environment friendly endeavors in an event hosted by brainfeed on 4 February 2017
The school won the 'Top School of India Award' at the School Leadership Summit organized by Digital Learning on 21 January 2017
Tagoreans declared Overall Winner of Skimmer event at AWIM National Olympics 2017
Tagoreans participated in the finals of the Skimmer event for class V and Jet Toy Car challenge for class VI, which was held in Hotel Maple Emerald, Gurugram from 06-08 January 2017. A total of 50 teams from 27 cities from all over India participated in this event. The team comprising of Sakina Ahmed, Raja Zeeshan Zeb of V B and Rehaan Ahmed and Jiya Chawla of VA was declared National Overall Winner in the Skimmer event. They also won the category awards for the maximum distance and turning ability. The team was also awarded a cash prize of Rs. 14000 for their brilliant performance. Our student volunteer Saarthak Bhagat(Skimmer) also won the award for the Best Student Volunteer and a cash prize of Rs. 5000. Besides, the second team in the Jet Toy challenge for class VI comprising of Jahanvi Kumar, Joydeep Singh, Shrajith A. Natarajan of VI C and Vansh Saigal of VI A were also awarded the category award for sportsmanship in the Jet Toy Car event.
School bestowed with two special awards by 'The Business Education and Research Group' of Singapore on 24 November 2016
The first award is for the institution , for being a 'Leading Education Provider' and using unconventional pedagogy in keeping with educational changes in the 21st century.
Ms. Preeti Chadha, the Junior School Headmistress , received this award on behalf of the school.
The second award , has been aptly conferred to our principal, a truly able leader,Ms. Madhulika Sen , for , the 'administrator -par-excellence'. She has been recognized for integrating innovative and creative ideas in accordance to international standards.
White Swan Award for the session 2015-16
The school received the White Swan Award for The Most Influential Brand in Education for 2015-2016.
Our Principal ,Ms. Madhulika Sen received the award for The Most Influential Leader in Education for 2015-2016
TIS grabs spotlight for the intellectual workings and the social initiatives of its students and staff
School wins accolades at the 6th Shanghai International Youth Science and Technology Expo 2016 held in Shanghai from 17 to 20 July
A contingent of ten students of classes X and XI, accompanied by two teachers from Tagore International School Vasant Vihar, represented India at the 6th Shanghai International Youth Science And Technology Expo 2016 and Science and Technology Stars of Tomorrow Invitational Tournament, held in Shanghai from July 17 to 20. In all, four projects were showcased at the Expo: Brake Volt, made and presented by Arnav Balyan, Muskaan Mehra and Abhay, Hari Teflon presented by Shraddha SS, pH 5.6 presented by Priyesh Sharan, Avijit Sharma and Sagnik Bhattachrya , while the project on Oxygen from waste was presented by Manchit Jasrotia, Aarnav Bharghava and Manoj VM. Each exhibit won the first, second and third prizes respectively. Over 100 students and teachers from 35 Schools from across the world had participated in the event
School bagged first prize for the "Best Caption" in School Enterprise Challenge Photo Competition organised by British Council in March 2016
School Excellence Award bagged for scoring a prestigious place in the top twenty CBSE schools of Delhi at IIIrd National Conference organised by Brainfeed magazine on 04 February 2016.
Hogwart's School Award and the Capsule Award by Parakh Foundation on 09 January 2016
The school's overall excellent performance won it the Hogwart's School Award (Silver) and the Capsule Award for the Best Curriculum Plan instituted by Parakh Foundation on 09 January 2016

School received International Exchange Peace Prize in the year 2015
School was felicitated for its regular participation in the Cultural Exchange Youth Program hosted annually by The Chinese People's Association for Friendship with Foreign Countries .
The event is held at Shanghai and is attended by a group of students accompanied by a teacher .
Education World (September 2015 issue) ranks Tagore International School, Vasant Vihar 52nd among top Co-ed Day Schools in India
Tagoreans bagged Gold medal at the Malaysian IYIO 2015
At the Malaysian International Young Inventors Olympiad (MYIO) 2015 organized by Tun Syed Sheh Shahbudin Science Secondary School, University of Sains, Malaysia and Ministry of Education, Malaysia, three students Radhika Upadhyay, Alma Vikram, and Kusharga Rastogi of class X, along with Dr. Remy Kaul, PGT Science were awarded the Gold medal for their project on the early detection of diabetes using plantar's pressure. The project, presented in the category of Biotechnology, was selected out of 195 exhibits presented by various schools from six different South Asian countries. The exhibit was highly appreciated by the judges and visitor's alike.
School was felicitated with The World's Children's Prize for the Rights of the Child
PEAS felicitated the school for its Programme on Environmental Awareness in their Fourth National Conference held at Hyderabad.
Felicitation for being Outstanding School, North by 9th Indy's Education Awards for Excellence in School Education
on 14 Feburary 2015
Tagoreans felicitated by Disney- Friends for Change for their initiative to revitalize C-9 park in their neighbourhood and handing it over to the RWA in December 2014.
Tagoreans were declared the Regional and National Winners at AWIM National Olympics 2014 in Jet Toy Event organised by SAEINDIA
AWIM-
A World in Motion
an International event organized by SAE, (Society of Automotive Engineers) aims to promote effective learning and understanding of science among young students. The competition is supported by Maruti Udyog Limited.
At the 7th SAE AWIM National Olympics 2014 held at Pune, the team from Tagore International School, Vasant Vihar was declared the National Winners in the Jet Toy event. The team comprising of Amadika Mahapatra, Kartik Gupta, Ronit Das and Arjun Gupta of class VI, had to compete with thirty Regional Winners of the AWIM Jet-toy and Skimmer Regional Olympics, which was held earlier in thirteen cities across India. The National Champions have done the school proud as they represented India in the SAE International Jet Toy Event held in Detroit, USA in the month of April 2015.
The specially designed Jet Toy, built by the students themselves, used a balloon and nozzle as an engine. It had to pass through different track rounds – maximum distance covered, distance covered with speed, distance covered with weight, accuracy and also the time and speed categories. Consistency in the results in each of the five categories was what made the team the National Winners. Besides the track round, the presentation round saw the team display the design, the logo, a slogan and the salient features of their concept car as well as an aesthetic car, while a gruelling question - answer round by the judges at the event had the team confidently showcase their conceptual skills.
The team, worked under the able guidance of Ms. Geeta Gosain and Ms. Nidhi Kapoor of the Faculty of Science and was awarded the AWIM Jet Toy National Olympics 2014 trophy, certificates and a cash prize of Rs. 20000.

School awarded as the ' Best National Standalone School of the year 2013-2014 ' by the Indian Education Awards 2014 Committee.
International School Award bestowed upon school by The British Council in the session 2013-14
The BritishCouncil is the United Kingdom's international organisation for cultural relations and educational opportunities. They create international opportunities for the people of the UK and other countries and build trust between them worldwide. The school received the ISA award for its collaborative learning and educational exchanges with other countries outside India.
School won the National Level FGAT Talent Hunt contest organised by Educosoft for the session 2011-2012
Movies made by Tagoreans bagged awards at film it hosted by INTACH
School felicitated by SPACE for successful hosting and conducting ISSEarthKAM, a project by NASA in April 2013
Award for Best Global Collaborative Learning in the School Education at World Education Summit 2011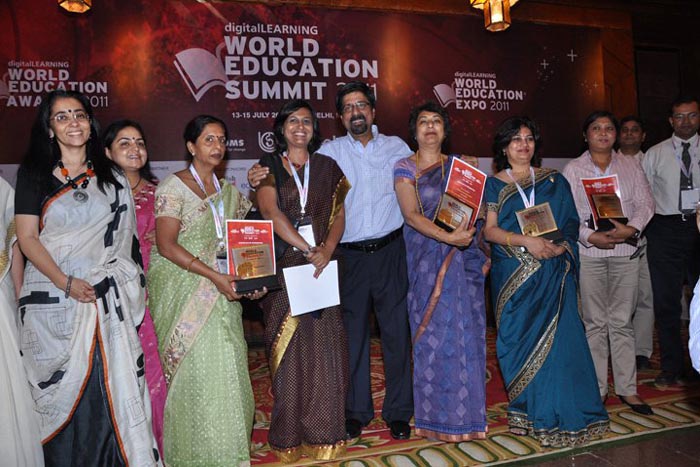 The school received an award on 25 November 2010 for being the Pioneers in implementing pedagogies of Digital Learning
Delhi Environmental Didatics Award conferred upon school on the ocassion of World Environment Day on 05 June 2004