Khushi Seth bagged the second position in the junior category of Read India Competition 2020
Read India Competition 2020 was a Readership & Leadership initiative for school students from 5th to 12th standards. Students were required to read and research on the topic 'Learning to Listen, Learning to See & Learning to Think Independently' .They then submitted the entries on 15 June 2020 in about 900 words along with one idea on how to prepare for corona like challenges in the future.
A number of students from the school participated and Khushi Seth of class VII C was selected for the semi-final round and she was amongst the top 100 semi-finalists from all over the world. In the semi-final round, the participants were interviewed; they were asked to speak about their entries and provide solutions to the given problems.
Khushi was then one of the top 12 participants who were selected for the grand finale round which took place on 25 September 2020. For this round, they were required to understand, prepare and learn about 15 different topics. Participants were then questioned on the same and asked to give their perspectives. In the grand finale round, Khushi bagged the second position in the junior category. She has received a certificate of merit for bagging the second position and a certificate of appreciation for making it to the final round.

Abhinav Mangalore has scored All India rank 39 in ISRO Cyberspace Quiz Competition 2020
Abhinav Mangalore of class XII C participated in Quiz related to Space, Science and Technology and achieved an All India Rank 39, in the category Class 11 and 12 of ISRO Cyberspace Competitions 2020 on 29 September 2020.
Sahil Chowdhary's award winning pictures on PhotoCrowd.com
Sahil Chowdhary of class XII participated in Photo Contest on PhotoCrowd.com by submitting his photographs in three different categories.
Guneet Sidhu secured the First position in the Poem Writing Competition
Storymirror, India's largest online platform which allows enthusiastic writers to upload and view stories, poems, quotes etc organized an online competition, #Brother- Sister Bond from 25 July 2020 to 5 August 2020 to celebrate the auspicious festival of Raksha Bandhan. There were more than 1270 eager participants for two categories -Poem and Story.
Guneet Sidhu of VII secured the first position in the poem writing category.
Saburi Chopra won the Consolation prize in the campaign " Let's Team-Up! Youth for #NoTobacco"
Tobacco use is the leading cause of preventable diseases, disability and death. Young people continue to be targets of marketing, advertising and promotion of new emerging tobacco and nicotine products. Social media is creating opportunities for companies to target and engage with youth in unprecedented ways.

A competition was organised by the Public Health Foundation of India to identify tobacco violations on social media . The competition registered over 1000 entries of school and college students and Saburi Chopra of class XI won the Consolation prize in category A. Participants were asked to identify tobacco violations and put them together in the form of a PowerPoint presentation and then write a mail to W.H.O officials to stop this violation on social media platforms. Saburi received a Certificate of Merit and an Amazon gift voucher worth Rs. 500.
Tagoreans excelled in Essay Writing Competition
The Shining India Super 100 Essay Writing Competition was organised by Armed Force Personnel Consultancy and Services Pvt. Ltd from 30 July to 20 August 2020.
Paavani Kapur, Aarav Tokas, Shaunak Mohotra, Manya Arya of class VI C, Nidhir Bardhan of class VI B and Guneet Sidhu of class VII C participated and will be awarded a Certificate of Excellence in the SISHEWC 2020.
Debshata Choudhury was one of the Semi Finalists in the Youth Impact 2020 Short Film category
Orion Square Youth Impact is a platform committed to creating Youth Champions of Change, aligned to Sustainable Development Goals.
Debshata Choudhury of class X participated and was one of the Semi Finalists in the Youth Impact Short Film ( social impact ) category.
Winners of INQUIZITIVE 2020 Quiz National Level Quiz Competition
Aditya Mathur, of class VII and Kaizan Minotra, of class VIII secured First and Second position respectively in the INQUIZITIVE National Level Quiz Competition conducted by History diaries There were more than 100 schools from across the country.
Aditya Mathur won a cash prize of Rs 1000 and an e-certificate.

Kaizan Minotra won a cash prize of Rs 750 and an e-certificate.
Tagoreans bagged the 'Young Thinkers 2020' title at a National Level
Four students Khushi Seth and Mrinal Singh of VII C, Shreyas Rajput of VIII C and Kaizan Minotra of VIII B were conferred upon the title of 'Young Thinkers 2020' at a National Level Essay Writing Competition initiated by ReTHINK INDIA Institute. The topic of the competition was-
Impact of Corona Outbreak
Re-Engineering of the Global World Order
My take on the new normal ahead
Based on their elaborate submissions, the four young participants bagged the national level honour and were handed over their citations and badges in an online ceremony held on 15 August 2020. For larger public dissemination and to take forward the engagement on this pertinent topic, their works are available on https://www.facebook.com/voiceofteens108 .
Roohi Verma and Suhani Sinha selected for this year's Award Finalist in the 4th Global Youth Environmental Essay Competition
Roohi Verma of class X A and Suhani Sinha of class X C participated in the 4th Global Youth Environmental Essay Competition organised by Hugh O'Brian Youth Leadership Foundation- International Partner for the Republic of Korea (HOBY Korea) and are selected for this year's Award Finalists. This essay competition witnessed many entries from around the world. Participants had to write an essay on Climate Change and Humans's role.
The link to view the results : http://www.hobykorea.com/bbs_shop/read.htm?board_code=notice&id
Shaina Shingari won the Third position in Pride Circle's #21DaysAllyChallenge
Breaking Barriers Campaign member, Shaina Shingari of class IX has won the Third position in Pride Circle's #21DaysAllyChallenge in the month of June. As part of this Challenge, she had to accomplish a series of tasks and challenges each day as an LGBT+ Ally changemaker. A total of 12,750 participants from 58 countries had participated in this Challenge who were a mix of fortune 500 companies, corporates, students from colleges like IIMs and IITs. Our school was the only school in the whole of the country to win 3rd position.

Her efforts have been acknowledged by the gifts and prizes she has received:
Gift vouchers by Capgemini, Intuit, Pitney Bowes, Sodexo worth INR 8,000
Laptop Bag by Hidesign worth INR 10,000
Echo Dot by UBS worth INR 3,500
Rainbow Scarf by Niesen worth INR 1,500
Gifts by Indeed worth INR 2,000
Gift voucher by Infosys worth INR 15,000
Tishya Chandok won the title of a Plastic Tide Turner
WWF organization organized a Plastic Tide Turner challenge with 3 rounds - Entry level, Leader level, Champion level and each level having 4 tasks.
Tishya Chandok of class VII C has successfully completed all the 3 rounds. The 3 rounds included various online talks, making of posters and a lot of creativity.
She has received the Certificate of Merit for completion of the Champion level and also has been given the title of a Plastic Tide Turner.
Manya Kamath won the Best Delegate Award in Indian Youth Emissary MUN
Manya Kamath of class XI participated in the Indian Youth Emissary MUN on 27 June 2020 and won the Best Delegate Award (Stranger Things Committee) . It was a one day event with three continuous sessions of 2 hours each.
Debshata Choudhary-Young agent of change
Debshata has completed the Champion Level of The Tide Turners Plastic Challenge ( Which is the highest level of this competition ) – It is a global youth movement to fight plastic pollution around the world. The challenge is organised by the Government of India's Ministry of Environment, forests and climate change, the United Nations, WWF, Centre for Environment Education, and the Million Sparks Foundation.
Neha of class XII secured second position pan India in a Business Development Model Challenge
SRCC invited applications for the Social Entrepreneurship program from all over India. A total of 280 students were selected nationwide. Two of our students Neha and Anaya of XII A got selected. The whole program was divided into 4 sessions. 28 teams were made with 10 students and one mentor each. They organised a business model development challenge.
Each team had to present , promote and pitch their business idea. The team with our student Neha as one of the members, secured 2nd position pan India. Their team made a business model to help the farmers of Punjab overcome the problem of 'Stubble Burning'. They lost to the team that secured the first rank by a mere 0.4 marks.
Kaashvi Mangal of class IV C bagged the consolation award in All India Online Painting Competition 2020 organised by Physical Education Foundation of India recognized by Ministry of Youth Affairs and Sports(MYAS). Entries across Pan India were submitted from schools/institutions for this competition.
The topic of the competition was United Against Corona-Express through Sports.
Kaashvi has won the consolation prize-All India 10th position.
U Sai Sruti's (class XII B ) poems have been published in the Student Edition of The Bombay Review, a New York and Mumbai based magazine that publishes prose and poetry by PhD holders and professors, and now also students.
Movie by Dhruv Bahri & Jeevisha Rawat is ranked among top 3 at the International School Film Festival, Vienna
The movie (Success at any Cost) by Dhruv Bahri and Jeevisha Rawat is ranked among top 3 at the International School Film Festival Vienna. Our school was the only Indian School among 11 other international entries.

The movie can be watched at the link below :
Kavish Mangal of Class II B participated in Annual Inter School Competition, Enthusia 2020 organised by Abhinav Global School, Dwarka.
There were around 100+ schools who participated and 2500+ individual registrations globally. The topic of the act for Grade 2 was 'Overcoming The Monster'. Kavish was awarded with Consolation Prize.
Budding Writer -Zahra Shirpurwala
Zahra Shirpurwala of class VII who has been writing poems and has successfully published her first book - "An Anthology from a Poet's Desk". She has to her credit, more than fifty poems already; however, the book has her favourite twenty-one poems published. She started writing poems when she was just nine years old. For Zahra writing poetry makes her put her expressions, thoughts and imagination into words. She would like her readers to grab a copy of her book and share a feedback with her.
The books are available through Amazon, Flipkart and Zorbabooks.com

Zahra Shirpurwala and Tishya Chandok of class VII won the Virtual B-Plan competition by Metamorphosis School of Entrepreneurship
Zahra Shirpurwala of class VII won the Second prize and Tishya Chandok of class VII won the Special Mention Award in the Virtual B-Plan competition by Metamorphosis School of Entrepreneurship.
Zahra Shirpurwala has also successfully secured a spot in the Metamorphosis School of Entrepreneurship.
Vrinda Arora and Zahra Shirpurwala of class VII bagged "Good Air Warrior Award" on World Environment Day
Vrinda Arora and Zahra Shirpurwala of class VII from our school were shortlisted from schools across India to be the part of E-talk Show on 05 June 2020 as Young Warriors of Good Air on the occasion of World Environment Day. This talk show was hosted by the IHW council for young voices to come and put forth their thoughts and opinions on air pollution and the impact of covid -19 lockdown on our lives. Lucipriya Kangujam, a young environment activist was also a part of this E-talk show and children across India shared their opinions on the issue. Hon. Justice Swatantra Kumar, the former judge of the Supreme Court of India, former chairperson, National Green Tribunal was among the panelists and encouraged these young voices and guided them on how they can impact the environmental led policies for a better tomorrow. It was great to see how these young climate crusaders exchanged ideas and are set to become young climate activists to make our planet green again.
| | |
| --- | --- |
| | |
| Vrinda Arora | Zahra Shirpurwala |
| | |
| --- | --- |
| | |
| Presentation by Vrinda Arora | Presentation by Zahra Shirpurwala |
Tagoreans bagged prizes in an Online Art Competition
Ranvir Batra of class VI won the third prize in the 'Kirori Mal Tanwar Memorial Online Art Competition' 2020.
Manya Kamath of class XI won the Consolation prize for her art work.

Topics for the artworks were:
*United against CORONA
* Covid - 19 - Social Distancing
* GLOBAL LOCKDOWN
School team secured the first position in an Online Nukkad Natak competition
Students from classes IX-XII participated in the 'Hasyatmak Nukkad Natak ' competition organised by K R Mangalam School and secured the first position.
Naman Kar of class V won the third prize in 'Mascot Designing' Competition
Earth Day 2020 online competition was organised by The Wise Foundation ,Danish Water Forum to design a Mascot for any National Park Wildlife Sanctuary in India. Naman Kar of class V won the third prize and got ₹1000 as an award.

Debshata Choudhary won the 'Certificate of Merit' in the contest 'Proverbs Illustrated'
Debshata Choudhury of Class X C took part in a French Competition where he had to illustrate any French Proverb. He won the 'Certificate of Merit' for his illustration for the month of April 2020.

Aashi Seth secured the second position in an online Young Orator's Competition
Aashi Seth of class V C took part in an online Young Orator's Competition organised by the Delhi Government. In the first round 10 students were selected out of a total 180 students and in the final round Aashi Seth secured the second position. She will be visiting the Delhi Assembly to receive the award, once the lockdown is over.
Avika Madan - Little Earth Saviour
Avika Madan of class I A participated in the 'YOUTH CAN' Campaign of POP Movement (The Protect Our Planet Movement) and the poster designed by her on Earth Day was displayed on their website thepopmovement.org
Manya Kamath of class XI B won the second prize in an Online Art Competition
Manya Kamath of XI B won the second prize in an Online Art Competition 2020 'Abhivyakti' organised by Delhi Police Public School, Safdarjung Enclave.
Best Performing School at DWF Competition
The WISE Foundation with Danish Water Forum organised EUGTS India Project (Activity 1) in the last week of April. Under this competition, the students all around the country participated online in the following categories:
Junior School (I-IV) : Video Making Competition : Record a 20 seconds video describing the importance of washing hands and saving water during COVID19.

Middle School (V-VIII) : Tagline Competition : Design a tagline for creating awareness on personal hygiene during these times.

Senior School (IX-XII) : Meme Competition : Create a meme for teaching social distancing for everyone around.
Our students participated whole heartedly and emerged as the proud winners under various categories.
Junior School (Video Making Competition)

Aileen Walia

2 B

Saisha Gosain

2 B

Aadya Gupta

3 B

Lavanya Ashish Yadav

3 C

Middle School (Tagline Competition)

Kabir Manchanda

7 A

Pritika Dhawan

7 C

Anandini Srivastava

8 C

Senior School (Meme Competition)

Sakina Nadeem

9 C

Namya Chhabra

10 B

Saksham Bhushan

12 C
We are also proud to share that our school has been declared as the BEST PERFORMING SCHOOL for this event.
Click to View Entries by Our Students
Garvita Gupta and Viraaj Singh Randhawa - WhiteHat Jr. Certified Game Developer
WhiteHat Jr. is a global online platform for kids aged between 6 and 14 years. Garvita Gupta of III C and Viraaj Singh Randhawa of VII C are one of the youngest kids in the world to become a WhiteHat Jr. Certified Game Developer. They were awarded the certificate for game development by a panel of computer scientists from IIT, Google, Intel, Microsoft and Amazon.
Budding writer : Shaurya Choithani
On the occasion of Gandhiji's 150th birth anniversary celebrations, tGELF, in association with Wisdom Tree Foundation and the Delhi International Arts Festival provided an opportunity to students of classes IX to XII to showcase their ethical and altruistic leadership abilities through ART and WRITING. Participants were supposed to write a 1500-word essay on, 'How Mahatma Gandhi Would Have Handled Today's Global Challenges'.
Proud to announce that the opinion piece written by Shaurya Choithani of class X B of our school titled 'Gandhiji's Dream For a New Economic Order' was selected as one of the ten winning entries that has been featured in a book published by Wisdom Tree foundation . The book was recently launched, a copy of which has been sent to her.
Vaishnavi Pandey has lifted the Pramerica Spirit of Community Award by tGELF
Vaishnavi Pandey of class X C has been recognised with a Gold Medallion and a cheque of Rs. 50,000 for her community outreach program for Flawless Flaws campaign of the school on 20 February 2020 at an award ceremony by Pramerica Spirit of Community Awards. She was felicitated by Mr. Anand Kumar, Super 30 founder & fame and Mr Anoop Pabby, CEO & Managing Director Pramerica. She is now going to represent the country and school at the international platform in Washington DC soon this year. She was selected from among 3200 applicants from across the country out of which a strong panel of 8 jury members selected top 16. Out of these top 16 (Silver Medallion winners), Vaishnavi made it to the top 2 (with a Gold Medallion) of the country.
School team won Meritorious Award at IYFMF
Harshdeep Singh, Viven Solaki, Anisha Arya, Samarth Bagga, Rohin Sareen of class XI participated in International Young Film Maker Festival 2019.
Our school team received the Meritorious Award for the movie 'Rape is not gender specific' at the International Young Film Maker Festival on 14 February 2020 at Moolchand Medcity, Lajpat Nagar.
Vrinda Arora bagged the first place at the TOI Young Change Leaders Contest 2020 in the junior category
Vrinda Arora of class VI C bagged the first place in the junior category at the TOI Young Change Leaders Contest 2020 held at Hyatt Regency today. She delivered a two minute speech in front of an august gathering of school Principals from Delhi and NCR region , environmentalists and journalists from TOI. She also faced a question answer round from the jury comprising of eminent personalities from TOI. She was among the top eighteen shortlisted finalists (Junior as well as Senior) that took part in the final round that was held on 06 February. The school will be presented the TOI Young Change Leader winning trophy while Vrinda walked away with a gold medal and a gift hamper.
Certificate of Merit-Session 2018-19
Ansh Bajaj of class XI C and Pranav Anand of class XI A have been awarded the certification of merit in Secondary School Examination 2018-2019. The Board awards Certificate of Merit in each subject to the toppers, in order to recognize their qualities and outstanding performance.
Students secured the third position in the State level Quiz
Arsh Mishra XI D, Sidharth Bhattacharjee XI C and Arjun Nehra of X B secured the third Position in the state level quiz on global warming organized by Department of Education.
Tagoreans won the Best Presentation Award in the 12th AWIM National Olympics
Our school participated in the 12th AWIM National Olympics 2019 held in Chennai and won an award in Best Presentation category. The team comprised of Shiddant C Shibu VI-C
Tishya Chandok VI C

Aarav Verma VI- B

Shaurya Sharma VI-B
Our Glider Team comprising of Abhilash Pradhan of VII A,Sashreek Kumar , Samyata Kain, and Lal Nunkimi of VII C was declared pioneer glider team and all the team members received medals for the same.
Radhika Mishra bagged the first prize
in Solo Vocal Singing competition at the zonal level
Radhika Mishra of class XIB participated in Kala Utsav 2019-20 and bagged the first prize in solo Vocal singing competition at the zonal level.
Shubhangi Aprajita and Kaizen Minotra won the 5th position in the National level of WWF Quiz
Shubhangi Aprajita of class VII C and Kaizen Minotra of class VII B represented Delhi State at the National level of the WWF wild wisdom quiz and bagged the 5th prize.
Rajveer Manchanda and Yuvraj Agarwal cleared initial level music exam of Trinity college of London
Rajveer Manchanda of class III B, and Yuvraj Agarwal of class IV A cleared Their initial level exam of Trinity college of London-Music with merit. Both are proficient in playing almost all percussion instruments such as drums ,congo etc.
Best Enterprising school declared at National Level Innoventure Challenge
Intelligent plus held a National level Innoventure Challenge on 18 -19 January 2020 at Vishwakarma Institute of Technology, Pune. Our school bagged the prestigious 'Best Enterprising School' among 110 schools and 45000 participants.The competition was held in three rounds -a pen paper test which was held at our school premises and where in many made it to the second round of telephonic interview. Five students made it to the finals with amazing State level and National level ranks.These students are :Aashi Seth IV C, Naman Kar IV A,
Yuvan Chauhan V C,Tishya Chandok VI C,Navya Sharma VIII C.
They competed with 30 other students at the National level where participants had to think and present on a given topic on social problems innovatively and create a 2D chart /3D model of a prototype giving solutions which was followed by a presentation of the same.These participants not just brought laurels for the school but came back with vast and lovely experiences.The school was also given a gift voucher of Rs 35000 and a Titan watch.
Arsh and Suyash have bagged the IInd prize in the Constitution Quiz
organised by Doordarshan
Doordarshan Bhawan, India, conducted a Know Your Constitution Quiz on the 9th & 10th January 2020, to commemorate the 70th year of the Indian Constitution. Our school team comprising of Arsh Misra and Suyash Chitre of Class XI-D bagged the second prize and were awarded a cash prize of Rs.30,000/-.The episodes will be telecast on DD National from the 20th to the 24th of January, 2020 in the evening.
Budding artist - Ishika Gandhi
Painting of Ishika Gandhi of VIII C was selected by the Jury in National Level painting competition based on a theme "Sowing the seed of tranquility".
Nouloshi Ghosh won laurels in All India Children Art contest
Nouloshi Ghosh of VI C participated for Meritorious Painting in 8th All India Children Art Contest. She secured 5th position in All India ranking and received a certificate of Merit.
Tagoreans declared overall winners at Youth Entrepreneur Business Challenge organised by tGELF
Our students Saransh, Prarthna , Udbhav, Pranav of class XI A were declared National winners at Youth of Business entrepreneur Challenge organized by tGELF whereas Vania Kapoor from XI A and Vaishnavi Pandey from X C bagged third prize in the Youth Leader Competition hosted by tGELF (The Global Education Leadership Forum) under the category of Sustainable Development Goals 3 ('Flawless Flaws' campaign). The Youth Leader Competition is a 6 months, stage-wise student engagement competition to identify exceptional talent with emphasis on ethical, altruistic and action‐oriented leadership.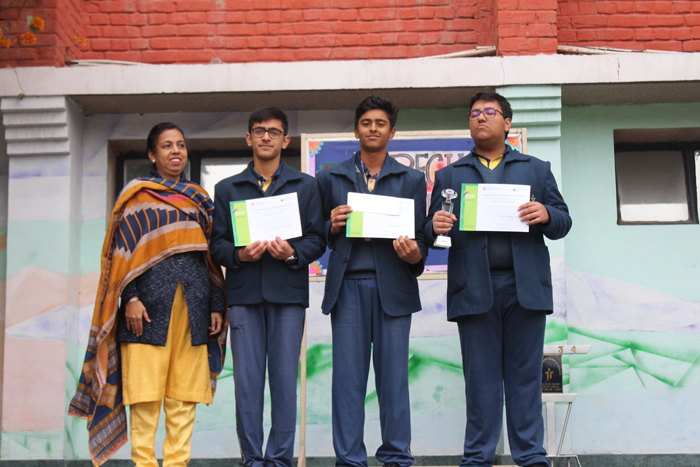 Overall Winner of Jet Toy Car event & Runners Up in the Skimmer event at AWIM Regionals
Maruti Suzuki sponsored AWIM regionals for the Delhi region was recently held at Maruti Suzuki Training Centre , Gurugram on 08 November 2019 . A total of 52 teams from top schools of Delhi participated in this event .
Our Jet Toy team comprising of Tishya Chandok and Sidhant Shibu of VI C and Shaurya Sharma and Aarav Verma of VI B were declared the overall winner of the Jet Toy competition and were also awarded 4 category awards in presentation,Turning Speed and Distance with weight round .
Our skimmer team comprising of Aditya Choithani and Pranav Garg of V A, Lalnuntluanga of V B and Manhar Ahuja of V C were declared the runners up of Skimmer competition and were also awarded 3 category awards in Accuracy, Weight 1 and Weight 2 round .
The Jet Toy will now compete in the AWIM nationals at Chennai for national title in December .We wish them all the best for the Nationals
The teams were guided by Mrs Neetu swarnakar, Mrs Geeta Gosain and Mrs Nidhi sood.
Darsh excelled in the Delhi State Level UCMAS Abacus & Mental Arithmetic competition
Darsh Kumar Tanwar of V C appeared in the 14th Delhi State Level UCMAS Abacus & Mental Arithmetic competition 2019 and secured rank 72. On 28th April 2019, 14th State Level UCMAS Abacus and Mental Arithmetic Competition was successfully organized at St. Columba's School, Gole Market, New Delhi. Over 2000 enthusiastic and talented children participated from all across Delhi. The UCMAS Abacus and Mental Arithmetic Competition witnessed young participants solving 200 mental arithmetic questions solved within 8 Minutes.
School won 'Song of the Year' Award at ITIHAAS Anveshan, 2019
Anveshan is an annual Heritage based music event organized by ITIHAAS-The Indian, Traditions and Heritage Society with the aim of encouraging young students to endeavour, explore and experience their local heritage. It provides the school students a unique opportunity to venture out, collect information, stories, lore and legends linked to their local culture, traditions and historical landmarks and weave them together into a melodious song. 31 students of classes VI-VIII participated in this event and won 'Song of the Year' Award in the Jumbish category at the National level.
Kaizan Minotra and Shubhangi Aprajita have qualified for the National level of WWF Quiz
The State Level Round of the WWF Quiz was held on 04 October 2019. Our Middle school team comprising of Kaizan Minotra of VII B and Shubhangi Aprajita of VII C stood First and have qualified for the National Level Round which will be held on 19th November. The Junior school team comprising of Shanmayukh Daine and Aarav Gupta of IV C came Fifth.