Watercolor Paintings by art students of TIS
The Upside of Lockdown
Learning something new everyday. Tried my hand at Mandala art today -enjoyed and loved it.
A Mandala is a symbolic picture of the universe. It helps transform ordinary minds into enlightened ones and assists with healing.
Missing school so much that I decided to make it part of my new creation. Blessed to have such wonderful teachers mentoring me all these years and so I can truly say 'I am worthy'.
Hope this ordeal ends soon and we are back to our classrooms.
Paavani Kapur
6-C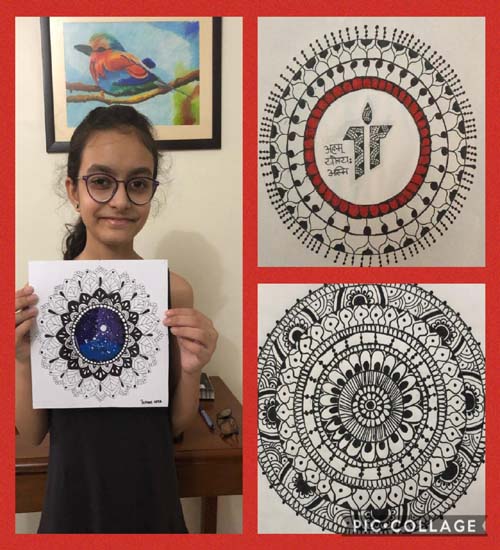 Students performed on "Junior Prize Distribution" on 25 February 2020
Annual performance by the students of various Performing Arts from classes VI to VIII
Class VI
Photography - Harshit VII A

Videography - Devansh Pandita VIII A
Farhan Ahmed VI A
Class VII
Photography - Devansh Pandita VIII A
Videography - Harshit Kumar VII A
Class VIII
Photography- Devansh Pandita VIII A
Videography - Md Wafi VIII A
Students performed on 'Senior Prize Distribution ' on 06 February 2020
Display of art and craft work done by the students of classes [ I to V ] on 'Sanchayan'-Annual Creative and Visual Arts festival on 26 and 27 December 2019
SANCHAYAN 2019-Annual Creative and Performing Arts Festival ( Classes III to V ) on 27 December 2019
Click for more pictures
SANCHAYAN 2019-Annual Creative and Performing Arts Festival [ Classes I & II ] on 26 December 2019
Click for more pictures.....
School Band Performance on the occasion of World Aids Day at Palika Park, CP on 01 December 2019
Our school students performed a live band on 01 December 2019, celebrating World Aids Day at Palika Park, CP. The school band was invited by Impulse India to perform. The audience were left spellbound. They applauded the students for a grand performance and kept asking for more. The band members rocked the event where the school was also felicitated by the Vice President of Impulse India, Mr Vinay. He also encouraged them to continue to perform at many more events.
Click here for Video
Students of Flawless Flaws campaign presented Nukkad Natak on Organ Donation at Vigyan Bhawan on 30 November 2019
Photography and Videography done by:
Advay Vohra IX-B
Art from the Heart - Annual Exposition of students' Art Work at Surender Paul Art Gallery from 21 November to 23 November 2019
Imagination and creativity become synonymous when powerful ideas take shape on the canvas. This year's edition of "Art from the Heart" Annual Art Exposition, explored the utopian ideas of beauty and perfection that offer a glimmer of hope and joy through the amazingly unique works of the students of Tagore International School, Vasant Vihar. The student's artwork was exhibited at Sangeet Shyamala from Thursday,21st November to Saturday, 23rd November 2019.(previous editions were held at the Arpana Caur Art Gallery).
Ms Vasundhara Tewari Broota, an eminent artist & figurative painter, was the Chief Guest. She inaugurated the display to the echoes of Sanskrit shlokas. The central, interactive art installation piece of the exhibition was in the form of a dream catcher. Visitors wrote about their own ideas of UTOPIA on paper tags and strung them onto this installation. The students also stood beside their paintings,explaining the emotions that their paintings captured. The exhibition was curated with the aim of creating a space of positive vibes and flamboyance of colours. The work was on sale to raise money for an initiative taken up by the school's campaign, "Flawless Flaws", to help support acid attack survivors. The show was a great success and visitors purchased many art works, generously donating for the campaign.
Amazing clicks by amateur photographers of TIS
Paintings on 'Foliage Study' by art students of classes XI-XII
Paintings of "Sunflower" inspired by Vincent van Gogh's by art students of class V
Students accompanied by the dance teacher Ms. Malovika visited the Japanese school on the occasion of India Day celebrated on 22 October 2019
There were various workshops held in the school related to Indian cultures. Our students and teacher conducted workshop on Kathak and Mathematics.